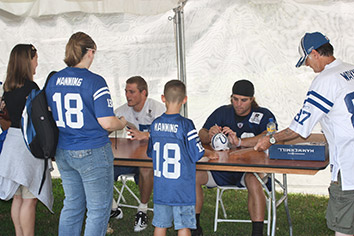 The Indianapolis Colts and the city of Westfield announced a partnership Wednesday that will make Grand Park Sports Campus the official home of Colts training camp for the next 10 years, beginning in July 2018.
Word of the training camp's move to Westfield leaked out Tuesday night, but further details were added by the NFL team and city officials at a morning press conference at the Grand Park Events Center.
"When Grand Park opened three years ago it was meant to be the gem of youth sports," Westfield Mayor Andy Cook said in written comments before the press conference. "This partnership to be the official home of the Indianapolis Colts training camp goes well beyond youth sports. To have an NFL team committed to Grand Park for a decade proves that our facility is not only a premiere venue for youth sports, but also for professional athletes."
Team officials said they plan to make the summer camp as fan-friendly as possible with a 72,000-square-foot "Colts City" attraction featuring a "Play 60 Zone," interactive inflatables, pro shop, cheerleader appearances and concessions.
"Holding training camp at Grand Park will give our team a chance to practice at a top-notch facility in addition to giving us the chance to connect with our fans as we prepare for the season," Colts General Manager Chris Ballard said in written remarks. "The venue is located in ideal proximity to our fan base and we feel this is an advantageous move for the Indianapolis Colts."
Colts training camp participants are expected to stay at the nearby 152-room Cambria Hotel & Suites Westfield, which is expected to open in Grand Park Village in November.
Westfield officials have been talking to Colts executives about moving the training camp to Grand Park for more than a year. Documents that IBJ obtained last year about a failed hotel project at the park showed a major user was interested in securing a long-term agreement at the park if lodging could be provided on-site. The documents indicated the interested party was the Colts.
But with no lodging yet available, the Colts held camp at its practice facility on the northwest side of Indianapolis.
The Indiana Farm Bureau Football Center, 7001 W. 56th St., does not contain seating for spectators, so practices were closed to the public. The team added a pair of open practices at Warren Central High School and Lucas Oil Stadium for the general public.
Since moving to Indianapolis in 1984, the Colts have held camps at Rose-Hulman Institute of Technology (1999-2009) in Terre Haute and Anderson University (1984-1998 and 2010-2016) in Anderson.
Anderson estimated that the camp had an economic impact on the city of as much as $6.5 million, especially when it returned to the city in 2010 and drew about 85,000 visitors. Visitors fell to about 20,000 in 2016 as public practices fell from 16 to 11.
Colts officials said they expect to see a significant rise in the economic impact of the camp with the new location because of the proximity to its fan base.
The 400-acre Grand Park campus contains 26 baseball and softball diamonds and 31 multipurpose fields for soccer, football, and lacrosse. It also has two large indoor multi-sport facilities.
The 370,000-square-foot Grand Park Events Center has three full-sized soccer fields and second-floor viewing areas over the fields.
Colts officials said they plan to conduct most of the camp on the outdoor fields but like the option of being able to move them inside during inclement weather into a facility where the public can still view the players.
Please enable JavaScript to view this content.