Don't lament yet: There's still plenty of outdoor fun available into the cooler months.

As we do every September, we have to accept that summer must eventually come to a close.

But that doesn 't mean we can't try to stretch it out as long as possible.

So this week, instead of a review, here are some outdoor summer activities that continue into September and October.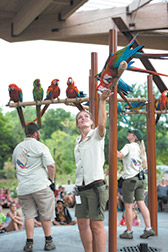 At scheduled times, visitors congregate under the Indianapolis Zoo's new Bicentennial Pavilion for a meet and greet with the macaws.
Look, up in the sky!

You'll have to act quickly before this Indianapolis Zoo attraction folds up its wings Sept. 13. "Magnificent Macaws" is a seven-species air show where, at scheduled times through the day, 50 or so brightly colored birds take to the air for an up-to-half-mile flight over the heads of visitors. There's also an audience-participation show under the Pavilion featuring the birds (and if you haven't been to the zoo since the building of this impressive structure, it's been too long since your last visit). But if your timing isn't great, you can see the birds up close and more docile in their enclosure in the Forests area anytime they aren't in the air.

Concert wind-down

It's not too late to catch an outdoor concert from big-name talent. Still to come at Klipsch, Luke Bryan (Sept. 15) and Matchbox Twenty/Counting Crows (Sept. 24). On the Lawn at White River State Park, there's still time for The Flaming Lips (Sept. 17). And don't forget the block party that caps the Indy Jazz Fest outside the Jazz Kitchen (Sept. 17).

Out-of-town festival fun

The outdoor festival season isn't over yet—although you might need to check the weather before opting for shorts and a T-shirt and heading out for the day. Some of the remaining events around the state include Greenfield's Chalk Fest (Sept. 16), Nappanee Apple Fest (Sept. 14-17), the St. George Festival in Fishers (Sept. 15-16), Lebanon's Back to the '50s Festival (Sept. 15-16), and Rushville's Wendell Willkie Days (Sept. 15-17). The Feast of the Hunter's Moon (Oct. 1) celebrates its 50th annual event in West Lafayette. And the Brown County hub for summer festivals, the Bill Monroe Music Park and Campgrounds, still has life left in it. Sept. 20-23 brings a long lineup of musicians for the 43rd Annual Bill Monroe Hall of Fame and Uncle Pen Days.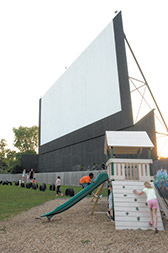 Tibbs Drive-In features four screens, offering double features into October. (IBJ file photo)
Drive right in

One of the unheralded cultural advantages Indianapolis has over many larger markets are drive-ins. Yes, that's plural. For outdoor cinematic fun, Hoosiers can stay within city limits and hit Tibbs Drive-In Theatre, where four screens each offer a different double feature on weekends through Oct. 27. Bonus: You can even get a breaded tenderloin sandwich at the concession stand. There's also the retro pleasure of the single-screen Skyline Drive-in Theatre in Shelbyville, where, in addition to current Hollywood fare, an oddball third feature is added late-late Saturday nights (The Sept. 23 pick: "The Farmer's Other Daughter," a 1965 comedy about a traveling bathing-suit salesman). The Skyline also is home to the pinball-machine- and video-game-packed Skycade. Don't confuse Skyline with The Starlite Drive-In in Bloomington. There, pets are welcome but you're expected to buy a $6 food permit if you bring your own meal.

More outdoor flicks

Free movies on the Clay Terrace Lawn continue through the end of September with "The Secret Life of Pets," "The Avengers" and "Moana." Pre-show activities begin at 6:30.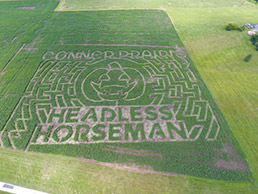 Conner Prairie adds a massive corn maze to its outdoor offerings, staying open through its Halloween Headless Horseman events. (Photo courtesy of Conner Prairie)
Closer to home

Indy Irish Fest packs White River State Park (Sept. 15-17) and Fiesta (Sept. 16) fills American Legion Mall. Following close behind: the Indianapolis Chinese Festival (Sept. 23) at IUPUI Wood Plaza. This year's Fountain Square Music Festival (Oct. 6-7), will include a new outdoor stage the organizers are calling "immersive." And the Original and Fabulous GermanFest (Oct. 14) includes wiener-dog races and an estimated 100 vendors. Less familiar may be the Full Circle Festival (Oct. 14) on Monument Circle honoring and assisting refugees.

And, of course, September and October are ideal for camping. See you at McCormick's Creek?<

Newfields and some old fields

The Indianapolis Museum of Art grounds—transitioning to the name Newfields—offers its International Cat Video Festival on Sept. 23, moving the event outdoors. The IMA will also keep its Beer Garden open through the end of October, including a Sept. 30 Oktoberfest. Meanwhile, Conner Prairie is still well populated with old-school activities through the end of October. Plus, as it transitions into fall and Headless Horseman activities, it will add a seven-acre corn maze opening Sept. 23.•

__________

This column appears weekly. Send information on upcoming arts and entertainment events to lharry@ibj.com.