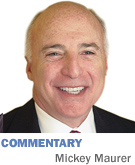 Tim Nation and I had a stimulating conversation at Mickey's Camp last month. Tim is the executive director at Peace Learning Center, an organization established to reduce violence and increase kindness in our community. Its vision is to build "a community of peace where respect is primary and justice is real."
The subject of our conversation was leadership in central Indiana. In my column, I had addressed this topic two or three times over the last few decades but not recently. I lamented to Tim that most of the "old timers" have passed from the scene, and I wondered who was stepping up to take their places. It didn't take long for Tim to supply his list, which I am pleased to share with you.
I dug in the files and reviewed my old observations. I come from the business world, and my leader list reflected that point of view. My entrepreneur all-star team of more than a decade ago consisted of Christel DeHaan, Mel Simon, Gene Glick, Steve Hilbert and Scott Jones. OK, I wasn't perfect. But it is interesting to note that Tim's list has a dearth of entrepreneurs.
Another old list presented by the late Todd Tobias of the defunct Indy Men's Magazine and Gerry Dick of Inside Indiana Business called "Indianapolis Keepers," was skewed toward politicians and sports personalities. The "keepers" list was ranked according to popular vote and included Richard Lugar, Bart Peterson and Mitch Daniels, who as politicians had spent tens of millions of dollars enhancing their images. It also included Peyton Manning, Larry Bird and Tony George, whose images were promoted to sell tickets to Colts and Pacers games and races at the Indianapolis Motor Speedway.
In response to the "keeper" list, I chipped in Indiana University Medical Center physician Larry Einhorn, who defeated testicular cancer, and community leader David Frick, who played a key role in downtown redevelopment. I also added Gerald Bepko, who distinguished himself at IUPUI for 30 years, the last 16 as chancellor, and Mike Alley, who probably chaired more not-for-profit boards than any person in the city's history.
Later, I wrote a column trumpeting the success of intrapreneurs, those who recognize opportunities within their corporations and exhibit courage to pursue non-conventional solutions. My suggestions were Ben Lytle (Anthem), John Hodowal (IPL) and Randy Tobias (Lilly). Many of the names mentioned above are no longer in the productive phase of their careers. Some have passed away.

According to Nation, it is time for Generation X to assume leadership in Indianapolis. Many have. Identifying new leaders is subjective, but Tim's list is a good starting point. Rafael Sanchez is the president and CEO of Indianapolis Power & Light Co. After earning a law degree from that fine school down in Bloomington, Sanchez ably followed community leaders John Hodowal and Ann Murtlow to lead the electric utility. His leadership is also felt at the Greater Indianapolis Chamber of Commerce, Cancer Support Community, United Way and the Methodist Health Foundation.
Citizens Energy Group chief Jeff Harrison is the first African-American to head an Indianapolis-based utility. He has a BS degree in electrical engineering from Rose-Hulman Institute of Technology and an MBA from Indiana University. He has served on the boards of the Center for Leadership Development, the Indianapolis Zoo, Goodwill Education Initiatives Inc., Marian University and the YMCA.
Christina Hale came within a whisker of serving as Indiana's lieutenant governor. Armed with a degree from Purdue University, she is a warrior who is not afraid to tackle the tough problems of cracking down on crime and leading the fight to reduce sexual violence against girls and women.
Others on Nation's list are equally deserving of recognition and praise. Please add your comments and suggestions to Tim Nation's list, if you like.•
__________
Maurer is a shareholder in IBJ Media Corp., which owns Indianapolis Business Journal. His column appears monthly. To comment on this column, send e-mail to mmaurer@ibj.com.
Please enable JavaScript to view this content.