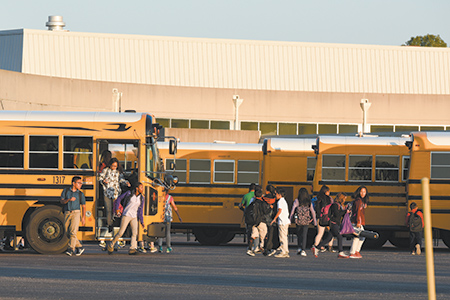 It was an enticing recommendation: Perry Township Schools could save $700,000 a year if the district rerouted its transportation system, using fewer buses and drivers, and cut the number of routes from 122 to 94.
A start-up firm, True Consultant Service LLC, in business for less than a year, made the bold prediction to Perry administrators last year. The firm mapped out new routes and said it would help implement the new system. The district paid $24,000 for the services.
But officials in Perry Township—and at least two other Indiana school districts, Muncie and Martinsville, that took similar action—soon would regret their decisions. The new routing systems ran into huge problems during the opening days of school this summer, with students riding buses for up to two hours each way, missing classes and worrying parents.
Perry officials reversed course and cut ties with the company last month. "After school opened and we realized our transportation was awful, we didn't use them anymore," said Ken Mertz, the board president. "Our own people just rerouted everything where we realized there were issues with routes."
Officials in Martinsville also severed ties and are now considering litigation. In Muncie, officials canceled classes for two days during the first week of school while trying to figure out what went wrong.
It's a trail of woes that could have been avoided had administrators and school board members noticed and heeded red flags along the way.
An IBJ investigation found the consulting firm's two leaders had unusual credentials to be doling out transportation advice.
The CEO, Justin Wilcyznski, briefly worked as transportation director for the not-for-profit Central Indiana Educational Service Center, which provides services to nearly two dozen school districts, but was fired in 2011 for undisclosed reasons after a personnel review. Afterward, he worked as an account executive at Tyler Technologies, a Plano, Texas, company that sells bus-routing software, and as an account executive for MEGAstream, an Indianapolis marketing consultant.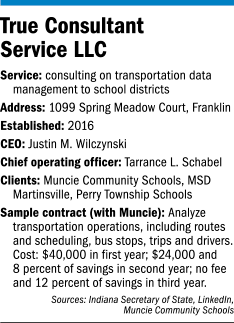 Earlier in his career, he worked as a transportation administrator for two school systems, Franklin Township Schools in Indianapolis and Clark-Pleasant Community Schools in Johnson County.
The chief operating officer of True Consultant, Tarrance Schabel, appears to have little or no background in school transportation. Instead, his resume shows he spent his career in sales and marketing, including stints at Angie's List and MEGAstream, as a "creative technologist," for six months, overlapping with Wilczynski. Earlier, he served a stint as president of a Greenwood mortgage brokerage.
In 2001, Schabel filed for personal bankruptcy to protect himself against creditors that included several mortgage companies, banks and other lenders. His Twitter profile reads: "Don't tease me about my hobbies. I don't tease you about being an asshole."
Online, True Consultant offers little to reassure customers it is a serious enterprise. The company's Twitter account has four followers. The LinkedIn account has eight followers and lists just two employees, Wilcyznski and Schabel. The company website was disabled in recent days.
When it registered with the Indiana Secretary of State's office in December 2016, the company gave its principal address as a single-family home in Franklin owned by Schabel. According to an online business directory, ChamberofCommerce.com, that address was previously home of Schabel Photography, a one-employee firm that specializes in "studio photography, product photography, ID cards."
In a brief phone interview with IBJ, Wilczynski and Schabel declined to talk about their firm's operations, provide a list of clients, or even confirm whether it was still in business. They said their clients insisted they keep quiet to protect confidentiality.
"We made the decision early on to stay above the fray," Schabel said. "We're not making a comment on anything."
In an earlier phone conversation, Schabel declined to comment and hung up on a reporter.
Such secrecy appears to be unusual. Many school transportation consultants list clients on their websites so that potential new customers can call for references. One of the nation's largest, Transportation Advisory Services, lists hundreds of clients in 22 states on its website.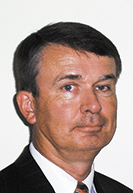 Walsh
"If you can't disclose that publicly, then, in my opinion, I can't think of any other reason than you're trying to hide something," said Mark Walsh, the president of Transportation Advisory Services. "I consider it essential to list my clients."
Signing up clients
How True Consultant managed to win contracts with numerous Indiana school districts remains a bit of a mystery.
Martinsville school officials said they hired the firm in February after hearing good recommendations from several other school districts and the Indiana Association of Public School Superintendents. 
That statewide association, which represents 425 superintendents and school administrators, declined to comment, saying its executive director, J.T. Coopman, was on a cruise and unavailable.
Martinsville schools spokeswoman Jayne Burke said in an email that her district paid $21,000 to True Consultant for its services, which included "advising, creating new routes and managing daily data in order for buses to be ready for the beginning of this academic year."
Yet the district would soon find its transportation services in mayhem.Several drivers said the new bus routes kept them on the road for much longer than in previous years, resulting in students having a longer ride to and from school.
"We have kids on the bus for over an hour at a time—5 o'clock, 5:30 that these elementary kids are getting home from school, and it's just uncalled for," Brandy Arthur, a bus driver for 18 years, told the Martinsville Reporter-Times.
Drivers said they were given their routes two weeks before the start of classes, but some of the routes were being reworked up until the day before school started. Some drivers warned that the new routes were unsafe for students. Parents soon flooded the district offices with phone complaints.
Martinsville administrators issued a lengthy written apology and returned to the previous route system.
"Several of our buses are overcrowded, students are on buses too long, and some pickup and drop-off locations are not deemed appropriate for students," Superintendent Michele Moore wrote to parents. "We have listened to parents' and bus drivers' concerns and felt their frustration."
In Perry Township, Superintendent Patrick Mapes said he suggested the board hire True Consultant after getting good recommendations from the district's transportation software vendor, Versatrans.
Versatrans software, widely used by school districts around the country, maps bus routes, provides maintenance software for bus mechanics, and provides onscreen portals for students and parents to check bus locations and estimated arrival times.
Veratrans is made by Tyler Technologies, where Wilczynski worked for almost three years, according to his LinkedIn page.
Route changes go awry
Perry Township Schools hired True Consultant last year for $12,000 to design a new routing system that would take the district from two tiers (meaning many drivers would drive two routes a day) to three tiers. On paper, that would decrease the need for buses and drivers, with an elaborate rerouting to shuttle more than 13,000 students a day to 21 schools.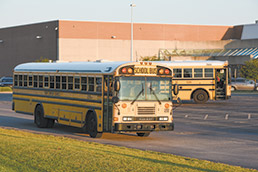 Perry Township Schools cut ties with True Consultant LLC after a new route plan went awry. (IBJ photo/Eric Learned)
Mapes said True Consultant estimated the district could save $700,000 a year under the new system. After the new routes were drawn up, the district paid the firm another $12,000 to "tweak routes and help us with full implementation" as the new system rolled out, he said.
The expected savings, Mapes said, were based on "the current number of routes we were running, the employee cost, as well as fuel and buses, and miles that were traveled."
But things quickly hit a snag. Enrollment unexpectedly surged by 500 students, and some parents didn't let the school know they needed bus service until the last minute. The district was forced to rejigger the system, adjusting starting times at some schools by 10 or 15 minutes.
The district cut ties with True Consulting in August, after the six-month contract extension expired, Mapes said. When asked if True Consultant performed up to satisfaction, he seemed careful not to sound critical, pointing out a national shortage of bus drivers and the enrollment spike.
"The initial work they did was good work," he said. "It's very hard for us to comment negatively because there were too many factors that caused us some issues. … It's hard to be negative because we were part of the problem."
But Mertz, the school board president, was not as reticent. "No administrator, no school board member was pleased with what happened," he said. "There's plenty of blame to go around."
In Muncie, meanwhile, the school board signed a three-year contract with True Consultant last fall to analyze bus routes, again with hopes of saving money. The agreement called for the district to pay True $40,000 in the first year, $24,000 and an 8 percent share of savings in the second year, and no fees but 12 percent of savings in the third year.
But Muncie quickly ran into problems, including lengthy delays in busing students to and from school, and students waiting for buses that never arrived. Some parents panicked, calling 911, after their children didn't arrive home and no one at the school answered the phone, the Muncie Star-Press reported.
Another factor: The school changed bus contractors this year, on the recommendation of True, but about 20 percent of the drivers from the new bus contractor quit just before the start of classes. The district was forced to cancel classes for several days to fix the problems.
Muncie Superintendent Steven M. Baule did not returns calls or emails to IBJ, but in an earlier public statement, called the situation "unacceptable." A spokeswoman said the district still has a contract with True. The district is facing a financial crisis, with an expected shortfall of more than $10 million, and has called in an emergency manager to help.
The emergency manager, Steve Wittenauer, retired superintendent of Benton Community Schools in northwest Indiana, said the transportation problems were just one more difficult issue for the district to address. He said it was "very unusual" for one transit consultant to be involved in foul-ups in three districts at the same time.
"Most kinks are worked out before the first day of school, long before that," Wittenauer said. "Transportation directors take pride in a smooth roll-out."•
Please enable JavaScript to view this content.