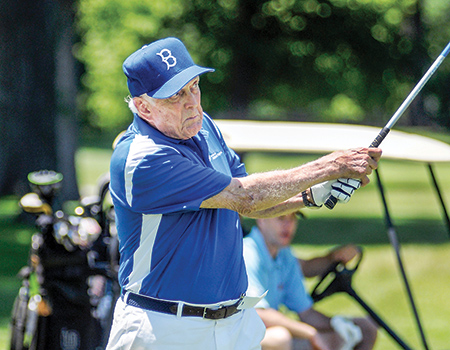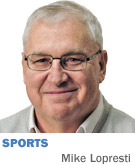 Carl Erskine shot 86 the other day in his weekly round of golf with his son. Not bad. Especially for someone 90 years old.
"That's the one thing good thing about being 90," he says at breakfast. "It makes it easier to shoot your age." He also mentions how people tell him to pick up 3-foot putts, because "everybody wants to be kind to an old guy."
This seemed like a good time to check in on the old guy, one of Indiana's living sport legends, since some big anniversaries are imminent. Next spring, it will be 70 years since Erskine broke in with the Brooklyn Dodgers, as a skinny kid from Anderson who had decent heat and an overhand curve. He thinks about that round number a moment.
"It ties right in with everything else," he says. "On Oct. 5, Betty and I will be married 70 years."
The man working on his bacon and eggs had a career that was a baseball who's who.
Branch Rickey signed him. He was Jackie Robinson's teammate, with a front-row seat as Robinson made social history. He is one of five surviving members of the 1955 world-champion Dodgers. Still one of the famous Boys of Summer, in the autumn of his life, along with Sandy Koufax, Don Newcombe, Roger Craig and Ed Roebuck.
"All five surviving are pitchers," he mentions. "I don't know what that means."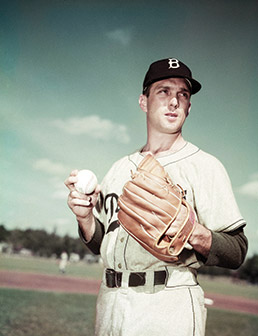 Erskine in his Brooklyn Dodgers days. (AP photo)
The first man to face Erskine in a World Series game was Joe DiMaggio, who popped up. He was in the Dodger bullpen to watch the Giants' Bobby Thomson hit the Shot Heard Round the World. He was in the dugout to watch Don Larsen's perfect World Series game. He started and won the Dodgers' first home game in Los Angeles. He got to know Babe Ruth's widow, when she came to town the year Anderson hosted the Babe Ruth World Series.
Along the way, Erskine pitched two no-hitters and once struck out 14 Yankees in a World Series game, then a record. The baseballs from the last out of all three of those games are in the Hall of Fame in Cooperstown. One of his great-grandsons visited there, and the curator let him hold the balls.
"I'll wake up some mornings and think, 'Did that really happen?'" Erskine says of it all. "My era spans '48 through '60. In that time, baseball went from day games to night, radio to TV, trains to planes, segregated to integrated, East Coast to West Coast. That has to be the golden era."
Yesterday is still alive for Carl Erskine. He can tell you how he played bridge in the clubhouse for 45 minutes during a rain delay, then went out and finished his first no-hitter against the Cubs. The New York papers printed that, and the next morning, he got a call from renowned bridge expert Charles Goren. Never mind the no-hitter, Goren wanted to know about Erskine's winning four-hearts bid.
He can tell you how the best pitch he ever threw in his life was the curveball he bounced in the bullpen of the Polo Grounds in 1951. That convinced Dodger manager Chuck Dressen to choose the other guy warming up to face Bobby Thomson. So it was Ralph Branca who walked into infamy with the home run pitch he would never be allowed to forget.
"I've imagined being in his shoes," Erskine says. "I don't know if I could have handled it as well."
He can tell you about 70 years ago, when he won his first five decisions with the Dodgers, a kid out of the Navy with so little money, he had to live at the Brooklyn YMCA.
"I had a window in the corner, I had a desk and a cot. Everything else was down the hall. Every time I'd win, I'd go down the hall and call my mom and dad. I was 5-0 and living at the Y."
And he can tell you how, after baseball, he came home to Anderson to stay, and about the day he began as an Anderson College freshman at the age of 32. "I walked into class that morning and my hair was already turning gray, and it got real quiet. They thought I was the professor."
He would end up in coaching. Then in business, working his way to the presidency of a bank. He would serve on various boards, and become a civic treasure for Anderson, which is why there is now an Erskine Elementary School, and a Carl D. Erskine Rehabilitation Center.
And he would be a father to four kids, one named Jimmy.
Jimmy was born in 1960 with Down syndrome. Doctors predicted he might live 35 years, and would need special care for every last day of them.
"When Jimmy was born, the medical term was mongoloid. Harsh term," Erskine says. "There were no schools, zero services. In one way, the culture wasn't any more ready for Jimmy than it was for Jackie."
Which brings us to this breakfast. Last week, Jimmy finally left home at 57. He is now in a center that can cater to his needs.
"They've been encouraging Betty and me, mostly because of our age, to make some good plan for Jimmy," Erskine says. "He's such a sensitive, emotional kid. We were thinking Jimmy would have a real tough time, but he has taken to this so far. I picked him up this morning, and he's as happy as a clam. He wants two breakfast burritos every Saturday."
It had to be tough for Erskine, after all these years—rather like a parent sending a child off to college.
"It seemed like outwardly it was more emotional for my wife. I got it in here, to see Jimmy go off on his own," Erskine says, pointing to his heart.
Jimmy will be home on the weekends. Meanwhile, Erskine still does work for his church, for Fellowship of Christian Athletes, for Special Olympics, driven by the memory of what the chance to win ribbons meant to his son. He still plays his beloved harmonica—including the national anthem for recent Pacers and Fever games—and he performed in a group at a country music benefit this month, with proceeds to the Special Olympics. He's played there 27 consecutive years.
Erskine has some breathing problems, and leg troubles from stenosis in his spine, which means he has to be careful walking. But he plays golf and follows baseball, and keeps track of his five grandkids and nine great-grandkids, one of whom is a promising softball pitcher for her girls' high school team in Georgia. He remains one of Anderson's all-time favorite sons. Once, he was tempted by a New York ad agency.
"Turned out to be the greatest move I never made," he says. "We were in church one Sunday morning and I had our house listed. We were going to move to New York. And I looked up and down the aisles—I saw these people that I had grown up with, in a church I had been baptized in; Betty and I had been married there; my kids had been baptized there. I leaned over to Betty and whispered, 'We're not leaving.'"
So here he is, at an Anderson restaurant, and the question is what will be more important in his legacy—the baseball, or his devotion to his hometown and family.
"The records are there; you can look them up," he says. "The other part I think gets exaggerated. Naturally, we like our hometown and would do anything that anybody else would do to help it. Betty and I aren't that comfortable with too many accolades. When Jimmy came along, we were parents trying to help services get started. Any parent would do that, and a lot of other parents did. But there's a sense of pride with me about Indiana."
One last thing: Any goals yet undone?
"Gratitude never goes out of style," he says. "I've been so overwhelmingly blessed with so much, there's nothing left."
He wants his family to be healthy and productive, wants to make it to his 70th wedding anniversary. And he wants to stay active. Vows this Boy of Summer, "I'm not coasting out." And then he heads home to see Jimmy.•
__________
Lopresti is a lifelong resident of Richmond and a graduate of Ball State University. He was a columnist for USA Today and Gannett newspapers for 31 years; he covered 34 Final Fours, 30 Super Bowls, 32 World Series and 16 Olympics. His column appears weekly. He can be reached at mjl5853@aol.com.
Please enable JavaScript to view this content.