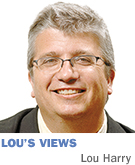 September always brings interesting migratory patterns around the Eiteljorg Museum of American Indians and Western Art. It's the time when Western art collectors from around the country land here for the annual "Quest for the West" art show and sale, a commercial, invitational exhibition featuring work programmed to sell. This year's take: more than $1 million.
It's not just for the buyers, though. The work remains on display through Oct. 8 before disappearing into private collections (except for some miniature cash-and-carry works added to the event this year).
If you want cutting-edge, though, I suggest waiting until "Native Art Now," opening in November. But even if you aren't a collector, you can take pleasure in this audience-friendly show, as I do, appreciating its mix of the familiar—both in style and subject—and newcomers.
Rox Corbett's "Sandhill Sons" (Images courtesy of Eiteljorg Museum of American Indians and Western Art)
The newcomers this year include Wyoming-based Rox Corbett, who brings jaw-dropping photo realism to her charcoal works, crafted with hand-made tools. You might find yourself spending an inordinate amount of time just staring into the eyes of the horses and livestock in her "Sandhill Sons" and "A Golden Horse and Spotted Cattle."
Also new to the show this year is Colorado artist David Grossmann. Where many other artists in the show are sparked by the energy and majesty of the West, his focus is on more peaceful moments. The tranquility practically shines in his "Summer Dusk Patterns" and "September in Yellow and Blue"—two titles that could double as jazz b-sides.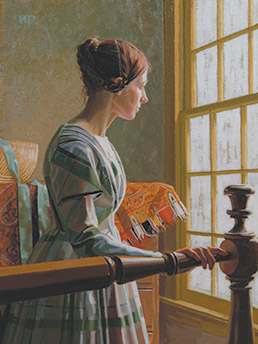 "Bedchamber," by Heide Presse
Among the rest, there seems to be an increase in the percentage of works featuring women as subjects. Heidi Presse, a native of Germany now living in Florida, returns with the thoughtful "Bed Chamber" and the tender mother/child scene "Home Is at the End of the Trail." The women populating Texan Gladys Roldan-de-Moras' work are festively garbed, offering a bright contrast to the horses they ride. And Nathan Solano, from Utah, brought along paintings of both a contemplative Native American woman on the plains and a tender moment between a cowboy and his young daughter.
Of course, there are plenty of landscapes and high drama images. Of the former, L.A.'s Mark Maggiori presents a series of paintings in which thick, billowing clouds are as dominant as the mountains in the work of other artists. And for the latter, there's Andy Thomas' "The Innkeeper's Daughter," in which the title character is represented by a light in the window while her beau and company high-tail it out on horseback just ahead of a fuming papa.
Each year, the Eiteljorg selects one of its "Quest" participants for its Artist of Distinction exhibition, showcasing work that has found its way into museums and private collections. This year's honoree, P.A. Nisbet, creates large-scale, almost Biblical images of sea and land and sky, often clashing dramatically. He also gets the calm after (or before?) the storm, though, particularly in "The Sermon," with its tiny, lone figure on a dock extending out into water with a barely perceived border with the sky.•
__________
This column appears weekly. Send information on upcoming arts and entertainment events to [email protected]
Please enable JavaScript to view this content.