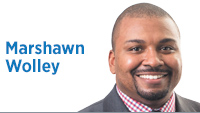 Indianapolis employers need to embrace both diversity and inclusion. They are different—and to those who feel like this is moving the ball, I'd ask you to consider a metaphor.
Consider diversity as an invitation to a dance. Inclusion means you get to dance. More than that, it means people might change the music or dance differently. There might be disagreement on what constitutes "good-dancing music." Some songs might offend some guests. Other songs might have zero relevance or connection. It is also possible that people can learn a new dance, new song and find a way to have a better and richer experience than originally expected. The larger issue is that diversity and inclusion will have an impact on the event.
To be fair, for a long time, folks including me have talked about diversity (not inclusion)—in part on the assumption that being invited to the dance meant we would get to dance. It was expected. But when it didn't happen, when the music was horrible, or offensive, or seemingly not relevant, we just stood there in shock, sometimes just hoping to be invited back.
Being at the dance matters. But imagine standing at a party and wanting to dance but not having the opportunity to dance.
Every metaphor fails at some point. My hope is that this one is instructive about how employees who are in organizations that merely value diversity feel when they are not in an inclusive environment.
Recently, I've had the opportunity to support my friends as they engaged their companies to acknowledge recent events happening in the country—when done well, an example of inclusion. My friends worked in companies spanning all sectors. They were in large and small companies. Publicly traded and privately held. Local to multinational.
For some of my friends, it was about finding their voice and figuring out how to approach senior management. For others, it was about the logistics of whom to talk to and what an internal message might look like for workforces spread out all over the world.
For my lucky friends, there was both relief of senior management's acknowledging some ugly aspects of our society and challenging that divisiveness while celebrating difference.
I'll note that, while I had numerous conversations about whether organizations made statements about Charlottesville or DACA, no one shared internal messages. I also didn't ask.
I did end up learning quite a bit about organizational cultures. I learned where never to apply or send leads. I also learned about people who held positions versus leaders.
For my friends in communications jobs, it's important to note that internal messages can end up external. I also get that CEOs must manage a complex set of stakeholders—even shareholders. Inertia, or, "If we do it this time, then we will have to do it all the time" is real.
But this doesn't get your leadership team off the hook from creating a space people can go to engage with employees affected by an event. If affirmation of your organization's values is ever really problematic, you have bigger problems.
In the end, your talent is your most valuable asset. To not engage your team and affirm your organization's values when they are needed the most speaks volumes about what matters.
It might not be fair, but the reality is that silence is deafening and feels a lot like tacit consent.
Diversity should mean inclusion. Aware and responsive stakeholder-sensitive organizations make for good business, regardless of sector.•
Click here to see all of the latest Forefront columns.
__________
Wolley is a lecturer at the School of Public and Environmental Affairs at IUPUI.Send comments to [email protected]
Please enable JavaScript to view this content.