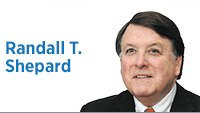 In the midst of the passionate national debate over Deferred Action for Childhood Arrivals, our state is managing to conduct an adult discussion about access to higher education for young people who are here in contravention of the immigration laws.
The particular question on the table is whether such young people should continue to be ineligible for the lower tuition rates charged to college students who are Indiana residents.
A recent legislative study-committee hearing reflected a thoughtful approach to that question from both sides of the aisle. Discussions of that caliber are all too rare in a national environment where the opposing sides seem in effect either determined to close the borders very tightly—or committed to borders that will always be open to anyone who wants to come. Even taking some middle approach, the country must be careful about offering benefits or opportunities that will promote renewed surges of unlawful entry.
Still, it seems altogether possible that we can think of changes in resident tuition as resting on smart economics for Indiana, rather than on the moral issues that so readily lead to shouting.
A good number of the public statements by Indiana leaders, even in the midst of the DACA furor, have reflected the central importance of education for residents. By virtue of a 2011 enactment, Indiana is one of only three states that bar in-state tuition for students not in the country legally. Rep. Tony Cook, a Republican from Cicero, said it would be a "mistake at this point not to make some changes."
Reading that led me to recall Mitch Daniels' recent speech in Evansville about supporting the most able high school and college students, "the sort of people on whom that more successful society and more successful Americas of tomorrow can and must be built." IU's chancellor at Indianapolis, Nasser H. Paydar, speaking about DACA, re-emphasized the university's commitment to preparing students from all backgrounds to be "active and engaged citizens, ready to contribute their talent, knowledge and energy to improving our world."
In-state tuition for students of this capability and commitment seems like a limited, well-targeted investment in Indiana's future. The current DACA debate is national, of course, but something like 80 percent of the young people it covers came from just one country, Mexico. And more of them reside in California and Texas than in the other 48 states combined. The Indiana numbers are fairly small—about 10,000 residents. According to IU President Michael McRobbie, that university enrolled 200 such students last year.
That number would rise, of course, if more residents were eligible for in-state tuition. But that's the very point.
Regardless of what happens nationally on DACA, a move to allow immigrant students in-state tuition rates would make Indiana a place where more young people of talent and commitment receive the preparation that will brighten their lives and the life of our state. There's little risk of such a move creating an enticement for further unlawful entrants. After all, the Legislature could revise its 2011 statute to limit eligibility only to actual residents or perhaps only to graduates of Indiana high schools.
And we could do that by taking only a modest tilt as respects the national debate. The legislators who participated in the recent study-committee discussion, according to press reports, variously expressed support for such a move or expressed an interest in knowing more.
Altogether, a tuition change that will arm Indiana with the best young people to build our future seems like something worth doing.•
Click here to see all of the latest Forefront columns.
__________
Shepard, formerly Indiana chief justice, now serves as senior judge and teaches law. Send comments to ibjedit@ibj.com.
Please enable JavaScript to view this content.