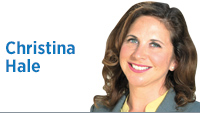 It is a very curious thing. For the first time in human history, we have the technology to learn the science behind our family history.
DNA ancestry testing kits are flying off the shelves. Products like AncestryDNA, 23andMe and National Geographic's Geno 2.0 test are allowing people to learn a great deal about their own origin stories.
It can be more than amazing to learn that assumptions we have made in life about ourselves are just not the truth, just as it can be inspiring to investigate and learn the story behind some of the science.
Still, as the Deferred Action for Childhood Arrivals program faces an end, and as close to 800,000 young people face deportation nationally (including up to 8,000 people here in Indiana), I certainly hope people also come to appreciate a broader point.
We all come from someplace else. Some of you might know your family's immigration story. Likely, most don't. We have built a sense of our collective American character of grit and hard work based upon our fight to come to and thrive in this country.
My grandmother, her brother and four sisters came to our country as children. Cuban orphans, Estrella, Panchita, Mercedes, Isabel, Jose and my little grandmother Edith had to adapt. They weren't supposed to grow up in the United States. The siblings were broken apart, and they had to find their own paths through life in a strange country without parents to guide them.
My grandmother grew up to be a great neighbor. She paid her taxes. She owned her home. She raised five kids, all of whom attended college. In fact, two of them earned doctorate degrees. I actually have an uncle who was a rocket scientist. My mom earned degrees from Georgetown and Purdue and just retired from a long career as a nurse right here in Indiana. She contributed to the economy and to her community.
My grandmother was not so special, but she became an exemplary American.
Still, during a time when politicians, employers and economists all over the state loudly lament our "brain drain," we are about to deport some of our best and brightest young talent.
Yes, it is about human beings, and it is also about the Indiana economy. So let's not be stupid.
Go and see for yourself.
Here in our capital city, I encourage you to learn more about the success stories coming from our local schools like Nora Elementary School or North Central High School. These thriving places of learning are teaching kids that speak more than 40 primary languages and graduating students that get into our state's top colleges and universities.
The real-life tales of grit, challenges overcome, and hard-earned success will not fail to inspire you. And economic evidence is clear that, as the economy becomes increasingly knowledge-based, our state dearly needs accomplished, working people to stay in Indiana. We need this young, eager talent now more than ever.
Yet today, not only do we deny these Indiana high school graduates in-state tuition, we now want to send this talent away.
We all came from someplace else. A simple, cheap DNA test will prove it. What is your family immigration story? It is likely worth finding out if you don't know yourself. Perhaps, too, you might reconsider the plight of our DACA dreamers through the lens of your personal history.
These kids came to our country often fleeing extremely dire situations. Today, they know no other home. And employers in a number of fields will tell you that we have a significant need for more Indiana workers with a strong work ethic and spirit of accomplishment.
We can't afford to let this happen.•
Click here to see all of the latest Forefront columns.
__________
Hale is a former member of the Indiana House and ran for lieutenant governor in 2016 on the Democratic ticket. Send comments to [email protected]
Please enable JavaScript to view this content.