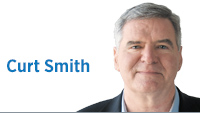 Few things age well beyond fine wines and successful investments. But Indiana, now 200 years young, is experiencing a fresh burst of expanding leadership not only at home but also in our nation's capital as we age well into our third century.
This was abundantly clear during a recent trip with the Indiana Family Institute's Hoosier Leadership Series.
Of course, it begins with Vice President Mike Pence. It is not just Hoosier pride to say he is more active than any vice president in recent history. His legislative experience in Congress and executive success as governor provide critical skills and relationships that President Donald Trump wisely capitalizes upon. A 90-minute meeting with our group of 40-plus Hoosier leaders and his senior staff provided ample evidence of Pence's outsized role and responsibility.
Former Vice President Dan Quayle certainly enjoyed the confidence of and played key roles for the first President George Bush as Indiana's most recent past vice president. But they presided over the collapse of the Soviet Empire and a time of much simpler domestic politics in what some argue was the third term of Ronald Reagan's presidency. Dick Cheney under President George W. Bush certainly played a large role in national security as a former secretary of defense following the 9/11 attacks. But the decision he championed to invade Iraq and Afghanistan based on flawed intelligence assessments remains controversial and limited the administration's flexibility on a host of other issues.
After Vice President Pence, Dan Coats work as the director of national intelligence, essentially the world's top spy, and also puts Indiana in a positive light. We cannot know much about this work due to its highly classified nature, but note that the "Russia scandal" and the roiling of "deep state vs. Trump" news stories are fading into the background as Coats brings adult supervision and Hoosier common sense to this essential function. North Korea will be his priority.
But perhaps most revealing is Indiana's congressional delegation. We met with seven of our 11 federal legislators. With the exception of Rep. Peter Visclosky, none has served even a decade in Congress. Two are first-term legislators. Neither U.S. senator from Indiana has served even one six-year term yet.
This compares to the likes of Sens. Richard Lugar and Birch Bayh, House members Lee Hamilton, John Myers, Elwood "Bud" Hillis, Dan Burton and others who essentially served careers in Congress. Lugar (1977-2013) served in five separate decades and Hamilton (1965-1999) served in four. Both became and remain respected foreign policy voices, but on behalf of Congress as an institution.
This new, younger crop of leaders brings more life and professional experience (cardiac surgeon, college administrators, military service, business experience) and a refreshing impatience with the status quo. This group is more likely to ask "Why not?" than to explain why Congress is not making progress on the nation's pressing to-do list. These leaders see the institution as limiting rather than enhancing our public life. They are more entrepreneurial vs. institutional.
It is refreshing and healthy for the nation and beyond that Indiana has sent such a well-versed but pragmatic lot to the hallowed halls of Congress.
Another thing aging well is this leadership-development program, now in its 13th year. Suggested by a former member of Congress, it includes a trip to Washington along with eight day-long seminars in Indiana on key aspects of the Hoosier state's politics and policy-making progress. Please consider joining us next year.•
Click here to see all of the latest Forefront columns.
__________
Smith is president of the Indiana Family Institute and author of "Deicide: Why Eliminating The Deity is Destroying America." Send comments toibjedit@ibj.com.
Please enable JavaScript to view this content.