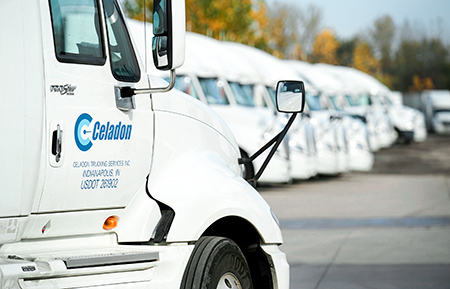 Celadon Group Inc. is exiting the driver-education business, the trucking company announced Wednesday, five years after spending heavily to launch the driving schools as a way to combat an ongoing shortage of qualified truck drivers.
Indianapolis-based Celadon said it would stop operating its three Celadon Driving Academy locations later this year and find a third-party partner to establish accredited driving schools at each of the locations.
The schools are in Indianapolis, Laredo Texas; and Richmond, Virginia.
The decision appears to be the latest cost-cutting move by the trucking company, which has been trying to get its financial house in order.
The transition to a new school operator is expected to take place later this month in Indianapolis and by the end of the year in the other two locations, the company said.
"Highly qualified professional truck drivers are the lifeblood of our organization," Celadon President and Chief Operating Officer Jon Russell said in a written statement about the decision. "We recruit and train thousands of drivers each year and constantly evaluate the optimal mix of experienced drivers, student drivers, and driver trainers.
"After a thorough review, we determined that using third-party programs and making additional investments in driver compensation and advanced training would afford a better investment of resources than continuing to operate the schools ourselves. We are trucking specialists, and we will focus on our core business."
Celadon launched a free in-house truck-driving school in Indianapolis in 2012 to boost its supply of drivers and cut down on turnover, a problem plaguing the trucking industry. At the time, Celadon said annual driver turnover at the company was 98 percent, mirroring the industry average.
The company employs about 3,700 drivers in the United States, Canada and Mexico.
Students attend the schools for four to six weeks to earn a commercial driver's license. Tuition, room and board are covered at no cost for students who commit to driving for Celadon for at least a year after graduation.
Celadon opened the Laredo school in 2014 and the Richmond academy last year.
Joe Weigel, spokesman for Celadon, said more than 2,000 students have been trained at the Celadon schools.
Employees at the schools may be able to find jobs under the new operator, Russell said.
"One of Celadon's third-party driving school partners has expressed interest in hiring many of our associates for their soon-to-be established school here in Indianapolis as well as Richmond and Laredo," he said. "In addition, we have open jobs within Celadon for which they can apply."
Celadon said it wouldn't disclose the new academy operator until a contract has been signed.
Celadon spent heavily on the training program. Its 61,000-square-foot driver training center at 9050 E. 33rd St. in Indianapolis, which opened in 2014, cost $7 million to build. The facility features dorms, a cafeteria, workout rooms, a basketball court and a road course.
In 2013, the company estimated it would spend at least $1,400 to train each academy student, but said that was cheaper than recruiting more experienced drivers.
Celadon won't completely rid itself of training costs by shedding the schools because graduates from the academies will need additional instruction.
"We will continue to train new drivers as they join us after receiving their commercial driver license (CDL) from the accredited driving schools with whom we have partnered," Weigel said in an email to IBJ.
Earlier this week, as part of its ongoing turnaround efforts, Celadon announced the sale of its flatbed trucking division to Birmingham, Alabama-based PS Logistics LLC.
Celadon CEO Paul Svindland said the company is refocusing on its core lines of business, which led to the decision to get out of flatbed trucking.
"Our new management team determined that we had neither the expertise nor the critical mass to compete in the flatbed sector," Svindland said in a written statement.
The sale was part of Celadon's larger effort to overcome significant financial challenges.
In May, Celadon said it expected to post a $10 million loss for the quarter that ended in March, in large part because of its irregular route operations.
The company also disclosed that its most recent annual financial report, and those for the two subsequent quarters, should not be relied upon because of questions raised by auditor BKD LLP.
In the annual report, the firm reported net income of $24.8 million on $1.07 billion in revenue. Celadon has not yet released an amended version of the report.
Celadon has also had some executive-level management changes recently. In July, the company brought in Svindland to replace former CEO and board chairman Paul Will.
Weigel wouldn't say whether the driver-education decision was related to cost-cutting efforts.  
"This is another step in our process of getting back to being one of the top trucking and logistics companies in North America," he said.
Please enable JavaScript to view this content.