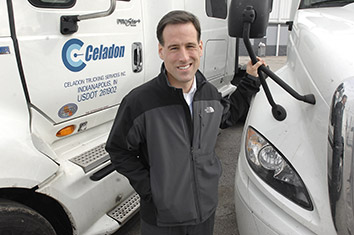 Struggling trucking firm Celadon Group Inc. has hired a new chief executive who will replace Paul Will later this month, the Indianapolis-based company announced Thursday afternoon.
Paul C. Svindland, a well-traveled transportation and logistics executive, is set to take over the CEO's position "on or about July 24," the company said.
Will, 51, plans to retire as CEO and chairman of the board, but will remain as a consultant to the company through July 2018. Will has been CEO of Celadon since 2012 and chairman since August 2015. He joined the company in 1993 as controller.
Michael Miller, the lead independent director of Celadon's board and chairman of the compensation committee, will replace Will as chairman.
Svindland, 45, is in his third year as chairman and CEO of Randolph, New Jersey-based Farren International Holdings Inc., a private-equity-backed holding company for multiple trucking companies.
The incoming CEO will be charged with righting the ship at Celadon as it works through an array of financial challenges that include a projected $10 million loss in its most recent quarter, increased lender scrutiny over its operations and a loss of confidence by its auditor in the company's recent financial reports.
"I have spent most of my career helping transportation companies realize their true potential," Svindland said in a written statement. "With its large asset base, broad international network, niche businesses, and dedicated associates, I believe Celadon has tremendous untapped opportunity. … I would not have accepted this position if I did not truly believe that I would have a meaningful impact on the company's trajectory and help enhance value for all stakeholders."
Svindland previously was CEO of EZE Trucking Holdings Inc., chief operating officer at Pacer International, and managing director of AlixPartners LLP, where he co-led the global transportation and logistics practice.
He also led the global logistics practice for ICG Commerce, which is now a part of Accenture, and served several years in management roles with Maersk Inc., the world's largest steamship line.
Svindland has a bachelor's degree from the Syracuse University School of Management and an MBA from the Wharton School of Business at the University of Pennsylvania.
Svindland will receive inducement awards of 600,000 restricted shares of Celadon stock that are subject to mandatory holding periods or price conditions. At Thursday's closing price, the shares would be worth about $1.4 million.
Celadon's stock is in danger of being delisted by the New York Stock Exchange after the company failed to meet NYSE standards for financial reporting, it said in a regulatory filing in May.
The company said Miller is expected to serve as chairman during a search process for additional independent directors, including a new board chair.
"On behalf of the entire organization, I would like to thank Paul Will for his service and dedication to Celadon over the past 24 years," Miller said in a written statement. "Paul has been an invaluable team member at Celadon, and the company has seen many significant achievements under his leadership during the past four and a half years."
Will is the most recent change in Celadon's executive office. The company's president and chief operating officer, Eric Meek, resigned in May "to pursue other interests." The board named Jonathan Russell, the former president of subsidiary Celadon Logistics Inc., as Meek's replacement. Russell is the son of Celadon's late founder and former chairman and CEO, Stephen Russell.
"I have thoroughly enjoyed my career at Celadon, and it has been an honor to work alongside and serve our employees, professional drivers, and stockholders," Will said in a written statement. "For this reason, I felt it was important for me to work with my fellow board members to allow an effective transition of duties and the appointment of the right leader to take Celadon into its next chapter.  I firmly believe that Mr. Svindland is the right person for this role."
Celadon announced the hiring of Svindland after the market closed Thursday. Company shares closed at $2.35 each, down 3 cents on the day. The shares traded for more than $9 each only four months ago.
Please enable JavaScript to view this content.