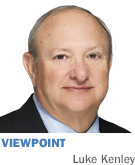 Over the past dozen years, Indiana has simplified and reduced its tax burden on individuals and businesses with the intent of creating a better business environment and a better job environment for Hoosiers. We found in the mini-recession of the early 2000s that Indiana had a tired, stagnant economy that was uncompetitive in the modern world, and we faced population loss, job loss and wealth loss by Hoosiers if we did not change.
So we changed. Dramatically. We lowered the individual income tax, corporate tax, financial-institutions tax and property tax, and we eliminated the inheritance tax and inventory tax. We coupled these with changes to tax incentives for businesses—tax credits are earned only if real jobs are created and they come only after the jobs are in place.
To do that, we had to be more selective in our budget and spending processes. We pledged not to cut spending randomly, but to invest more in programs that led to job creation, such as a stronger emphasis on secondary and higher education and workforce training.
With respect to basic services, we pledged to give the customer better service and do it at a lower cost. A prime example of this approach would be the BMV, where wait times were reduced from 61 minutes to eight minutes, with a smaller budget. This took discipline and prioritization, but we did it.
Last, we built a strong reserve. A strong reserve not only protects social service and education spending needs in time of recession, but it provides a cushion that assures investing businesses that Indiana's financial house is in such good order that surprise tax increases can be avoided. Businesses considering Indiana want stability and predictability of taxes and regulations.
It's time for the federal government to do what Indiana has done. The ideals of freedom, democracy, opportunity, free enterprise and the chance for all to get ahead economically are threatened by the federal government's current high-tax, large-deficit fiscal program. 
Taxes must be lowered to bring business back to Indiana and the United States. It is shameful to think we cannot succeed as a nation without the highest tax rate on business among the advanced-economy countries of the world. It is embarrassing that individuals have high rates (particularly small-business owners) and complicated returns. We need to simplify. We need a tax system that, on a stand-alone basis, shows the United States is open for business and a competitive place to be. This is the first thing we must do.
Once the system is in place, the federal government needs to reprioritize its budget process, live within its means, reduce the size of its deficit, stabilize its entitlement programs, and assure citizens of tomorrow that we are not spending their money today.
This can be done over time if we have the determination to succeed on this basis. We can do all this and still take care of those who need government support and invest in programs educating and preparing our youth.
Not only can we do this, we must do it if we want to preserve our great country, democracy and the opportunity for future generations to succeed as we have for the past 200 years. The time is now.•
__________
Kenley represents District 20 in the Indiana Senate and is chairman of the Senate Appropriations Committee. He plans to retire from the Legislature on Sept. 30.
Please enable JavaScript to view this content.