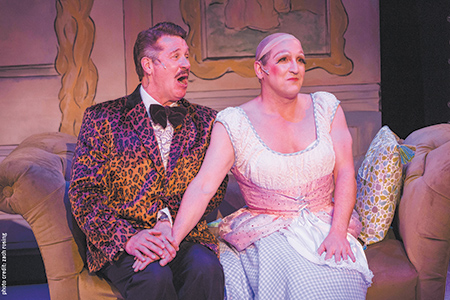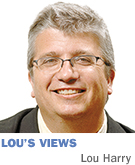 You can easily take in the pleasures of "La Cage aux Folles" (through Oct. 1 at The Studio Theatre) without any appreciation of its historical importance.
But in the midst of the laughs and applause at the charming, well-sung revival by Actors Theatre of Indiana, I couldn't help but flash back to the early 1980s when "La Cage" took Broadway by storm. What now is accepted as a feel-good—even old-fashioned—musical was, then, a huge risk.
Penned by first-time musical book writer Harvey Fierstein (before "Hairspray" and "Kinky Boots") and Jerry Herman, a composer who hadn't had a hit since the glory days of "Hello, Dolly!" and "Mame," it was largely populated by gay men who were more than just comic sidekicks or tragic figures. Could such a show attract a mainstream (translation: straight) audience? And wouldn't those reports just starting to appear in the press about this disease called AIDS make such a light-hearted show seem irrelevant?
More than 1,700 performances, two Broadway revivals, and a long list of regional productions later, its success isn't in doubt. Less trackable, though, is its impact on perception and culture.
Even if you haven't seen the musical, you might recall its rather thin plot if you saw the original French film version of the American remake, "The Bird Cage." Georges runs a drag club on the French Riviera with his longtime partner, the flamboyant Albin, as headliner. Loving son Jean-Michel shows up with news of his impending marriage, but he wants Albin to go into temporary hiding during a meet and greet with his fiancee's ultra-conservative parents.
Today, it's still tough to accept son Jean-Michel's (Sean Haynes) requested deceit or that Georges (Bill Book) would go along with it. But such disbelief is effectively countered here by Don Farrell, who anchors Albin's reaction with a strong cocktail of deep grief, betrayal and fortitude. It would be easy for his act-one-closing number, "I Am What I Am," to be just a powerful out-of-the-closet anthem. But Farrell takes the audience on an emotional journey from the moment Albin discovers what is being asked of him through the final notes of the song. The result is thrilling.
"La Cage" wasn't—and isn't—just an empowerment show for the gay community and its supporters, though. It also was—and is—a bridge. Herman's powerful song is anchored in the specifics of Albin, the character singing it, while simultaneously tapping into the universal desire of everyone to be accepted for who they are.
In its way, "La Cage" did for gay men in the 1980s what Tevya and company did for Jews in the 1960s—made them palatable to a wider audience. Albin and Georges toy with outrageousness when they are onstage in their club. But offstage, they are a long-term, committed couple that has prioritized raising their son. The difference between them and any other couple is that, in public, they have to sneak a bit of hand-holding—moments played beautifully and heartbreakingly in this production.
The play also subtly taught audiences in the 1980s that being gay isn't a singular thing. Albin is not Georges in temperament or style. Yet their love rings true. The dancers at the club, the Cagelles, aren't carbon copies of each other and none are anything like the outrageous butler/maid Jacob. Each is—as the lyric goes—his own, "special creation."
Actors Theatre's production doesn't have the glitz of the original production or the high-concept shabbiness of the most recent Broadway revival. By design, there doesn't seem to be any real effort made to create the illusion—sung about in the opening number—that these cross-dressing performers could pass for women. And changeovers take a bit too long—the biggest downside of which was slowing down the show's comedic climax, transforming surprise into foregone conclusion.
But along with the show's hummable score, the joyful spirit of "La Cage aux Folles"— and its requisite wigs and gowns—is intact.
Maybe there is hope for the world when men can kiss on a stage in conservative Carmel without someone walking out.  
Speaking of musical theater, how do you like your show tunes?
Not do you like them, but how do you like them?
That was the question the weekend of Sept. 15 as musical-theater lovers in Indy found themselves choosing between Broadway stars.
Kelli O'Hara (most recently seen in "The Bridges of Madison County") had a date with the Indianapolis Symphony Orchestra while Will Swenson (taking a night off from his stint in "Waitress") visited the Cabaret in the company of SiriusXM Broadway channel host and all-around theater obsessive pianist Seth Rudetsky.
Some of us opted for both.
I caught Kelli O'Hara's Friday matinee set with the ISO, a slightly shortened version of what was offered Friday and Saturday evening. Here, banter was at a minimum, the better to have the star of the Broadway revivals of "South Pacific" and "The King and I" fit in as many tunes from those shows—as well as "Carousel" and "Oklahoma!"—as possible.  
Those big four Rodgers & Hammerstein blockbusters dominated the program, which showed little interest in lesser R&H. (No, theater geeks, there was nothing from "Allegro.") Ben Crawford and Ted Keegan—both with leading-man credits of their own—joined aswell, along with the Indianapolis Symphonic Choir.
It's no surprise that O'Hara nailed not only the songs from her well-rehearsed and -performed roles, but also found grace and nuance in the tunes from characters she didn't play.
Granted, it's a bit disconcerting to see folks in tuxedos and gowns singing rustic cowboy/farmer songs.
And while it wasn't underlined, the fact that the ISO has more players than even a large Broadway orchestra (such as the one that joined O'Hara for "South Pacific" at Lincoln Center) made hearing the "Carousel Waltz" even sweeter.
In something of an experiment for the Cabaret, the program offered by Will Swenson and Seth Rudetsky was comprised of more chat than song. But when the gabbing is this much fun, who cares? 
Oh, there was music. Swenson sang a wide range of songs—from "Hair" to a gorgeous hymn to a Mormon rap (long story that I can't do justice to)—when he wasn't fielding questions and swapping stories with the fast-talking Rudetsky, a master of anecdote and attitude.
Ending with a duet mash-up of "You Don't Bring Me Flowers" and "The Confrontation" from "Les Miserables" was just sparkling, hilarious icing on a delicious cake.
Side note: Let's not underestimate the talent it takes to make such conversation feel so spontaneous while being funnier than most stand-up comedy specials. Here's hoping Rudetsky continues to add Indianapolis to his itinerary.
I wonder what Kelli O'Hara would have to say.•
__________
This column appears weekly. Send information on upcoming arts and entertainment events to lharry@ibj.com.
Please enable JavaScript to view this content.