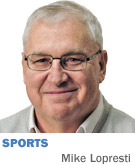 Big Ten football is alive and well, and we're here with two glittering examples.

It's not just because of the 29-8 record against non-conference opponents after three weeks, including some boffo wins—and only a smattering of unflattering losses (we're looking at you, Ohio State and Nebraska).

Not just the fact that 40 percent of the most-recent top-10 rankings included card-carrying Big Ten members, starting with Penn State at No. 4, and Michigan, Wisconsin and Ohio State following soon after.

Not just because Maryland scored 51 points at Texas, and 16 touchdowns its first two games.

Or because Michigan's Quinn Nordin kicked 11 field goals in three games, while the defense that had to replace 10 starters this season allowed only three touchdowns.

Or because Iowa's Nate Stanley threw 10 touchdown passes, and the last time a Hawkeye quarterback had any more over three games was 30 years ago.

Or because Penn State's total after a 3-0 start was 19 touchdowns scored and one allowed, and Saquon Barkley had both an 80-yard run and an 85-yard reception, the latter the longest Nittany Lion pass play since 1971.

Or because Minnesota started 3-0 under new coach P.J. Fleck, and the last man to begin his Gopher career 3-0 was Murray Warmath. That was 1954.

Or because Wisconsin outscored its first three opponents 72-0 in the second half.

Or because Michigan State's first two opponents faced third down 28 times, and converted only three of them.

Or because Illinois' receiver Mike Dudek—his past two years lost to knee injury—played his first game in 981 days, and caught a touchdown pass on the Illini's second possession.

Or because Northwestern leads the nation with 18 college graduates on its roster. Some of those master's candidates must be pretty good at offense, since the Wildcats averaged 9.2 yards a play against Bowling Green.

Or because Nebraska has now played before 357 consecutive home sellouts in Lincoln, with the last unsold ticket in 1962, though losing 21-17 to Northern Illinois is not a good way to keep the house filled.

Or because Ohio State freshman Drue Chrisman had 15 consecutive punts downed at or inside the 15. OK, maybe it's never good news when the punter has so many chances to deliver, and the whipping by Oklahoma was a bucket of cold water. But the Buckeyes are still on a lot of lists for national contenders.

No, there are two more words that suggest the Big Ten is on the move.

One is Indiana.

The other is Purdue.

When those two go on the road against the ACC and SEC and win by a combined score of 69-20, you know something is in the air.

Indiana and Purdue. A tale of two new coaches—all hail (so far) Tom Allen and Jeff Brohm—and four quarterbacks.

Here were the Hoosiers getting big numbers at Virginia—16-for-20 passing—from their backup, who goes by Peyton, named by his coaching father after You Know Who. Peyton Ramsey was scout team player of the week five times for Indiana last season, but now gets to be himself in practice. And starter Richard Lagow is still around, having thrown for more yards against Ohio State— 410—than anyone in four years.

"Those two guys are competing," Allen said. "You know, iron sharpens iron, makes each other better every single day, and that's what we want from all positions, especially at a position like quarterback."

Here were the Boilermakers, getting two touchdown passes each from David Blough and Elijah Sindelar on the same night, and that hadn't happened since 1998. Going into this weekend, Blough had thrown for a touchdown in 15 consecutive games. And since Brohm is noted for his pass-happy ways, who knows what numbers are ahead?

"I'd love to be able to come in here and throw it every play," he mentioned the other day. "We're just not ready for that."

Indiana has the Saga of J-Shun Harris II. He misses two years with two ACL injuries, endures all that rehab and all that pain, then finally gets back and rolls up 109 yards of punt returns at Virginia, the most for a Hoosier in 26 years.

Purdue won back-to-back games for the first time in five years, including the 35-3 mashing of Missouri, the most lopsided road victory for the Boilermakers this century. They put up points in the first 11 quarters of the season, this the same program that finished 101st in scoring in the nation in 2016. They recovered six fumbles in the first three games, or two more than all of last season.

See where is this all going? The Big Ten might be getting a double dose of energy from the state of Indiana. Alas, Michigan's Sept. 23 visit to West Lafayette might put a temporary chill on things. Indiana goes to Penn State Sept. 30 and that might not be pleasant.

But still, imagine that rarest of sights—an Old Oaken Bucket game with two winning records. Hope is alive in both places. If it's gloom you want, we can always talk about the Colts.•

__________

Lopresti is a lifelong resident of Richmond and a graduate of Ball State University. He was a columnist for USA Today and Gannett newspapers for 31 years; he covered 34 Final Fours, 30 Super Bowls, 32 World Series and 16 Olympics. His column appears weekly. He can be reached at mjl5853@aol.com.