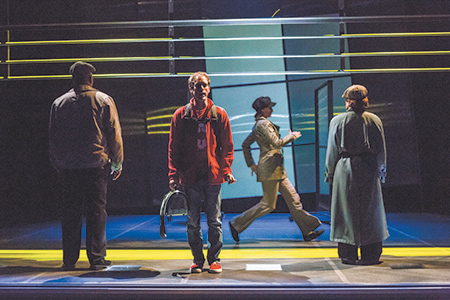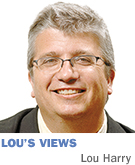 Local premieres of three Tony-winning shows highlighted the unique talents of the companies that produced them.
Indiana Repertory Theatre's "The Curious Incident of the Dog in the Night-Time" (through Oct. 14) scored national attention because its lead actor is on the autism spectrum—as is the character he plays.
This both matters and doesn't matter.
It matters because situations are rare in which characters with disabilities are played by artists who face similar challenges. Such casting expands the playing field for talent and offers a chance for audiences to experience work in a potentially rich, expansive new way. It doesn't matter because, when it comes to art, what ultimately is important, at least for me, is what ends up on the stage or on canvas or in print, etc.
"Curious Incident" begins, boldly, as a mystery. The title dog is dead and teen Christopher (Mickey Rowe), who is incapable of lying, doesn't like being touched. Though seemingly unequipped for detective work, he gets it in his head that the murder must be solved. In the process, he discovers a lot more than who wielded the fatal pitchfork.
The IRT's production doesn't have—and shouldn't be expected to have—the technical wizardry witnessed in the Broadway production, which made audiences feel like they were inside Christopher's head.
Rowe is far more expressive and athletic (sometimes to a fault) than the Broadway actor I previously saw in the role. His performance, combined with less intense effects, lead to a less harrowing but more comfortably accessible show. Though IRT's production differs from the Broadway version, Simon Stephens' adaptation of Mark Haddon's novel remains like nothing you are likely to ever have seen on stage.
And its well-earned, get-out-your-handkerchiefs ending still packs a wallop.
Side note: If you rush to get your car before the curtain call is done, you're missing something special.
__________
When the Phoenix Theatre stages a musical, only the hopelessly naive would expect a big-smile, toe-tapping extravaganza. As such, the Phoenix is the natural place for "Fun Home" (through Oct. 22), the recent Best Musical winner based on the autobiographical graphic novel by Alison Bechdel.
Alison is gay. So was her father—which you'd think might allow them a special bond. Only, years earlier, Bruce Bechdel stepped in front of traffic, killing himself. And Alison is wrestling with what exactly their relationship meant by piecing together bits of history and trying to remember objects and conversations.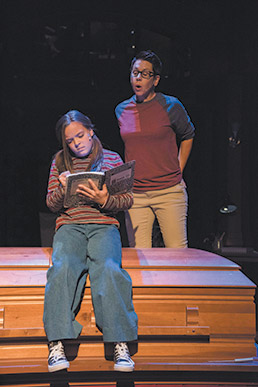 Alison (Cynthia Collins) recalls her younger self (Amelia Wray) in "Fun Home" at the Phoenix Theatre. (Photo courtesy of Ed Stewart)
Playwright Lisa Kron and composer Jeanine Tesori wisely decided that Alison—like any of us—isn't, as an adult, the same person she was as a kid or a young adult. So they have three actresses play her at different stages. Thankfully, the casting here is top notch, with each (in age order, Amelia Wray, Ivy Moody and Cynthia Collins) coming through as an individual character while echoing notes of the other. Collins may be familiar to local theatergoers for her many roles at Actors Theatre of Indiana, a company she co-founded. And she's well cast here. Less familiar, Wray and Moody are both revelations, bringing truth and beauty, awkwardness and ache to their roles.
And while I'm not as enamored with Tesori's score as others are, "Ring of Keys" stands out as one of the strongest theater songs of the past decade, with Wray doing it more than justice.
Suzanne Fleenor, a Phoenix founding member, returns to the director's chair with inspiration and talent to spare, keeping the tension tight while finding sparks of humor. In moving from the in-the-round format on Broadway to the intimate Phoenix stage, the show has taken on a more claustrophobic air, appropriate to the material. Jeffery Martin's lighting accentuates that effect while Set Designer Jim Ream has created a strong framework to hint at—and the perfect couch to specify—Bruce's antique salvage perfectionism.
__________
 
If there was an award for Best Local Audience, the crowd at "Memphis" (closed Sept. 24) would have been a strong contender. The passionate reaction, attentive focus, and unseen-elsewhere diversity heightened the pleasure of seeing my third area premiere of the weekend.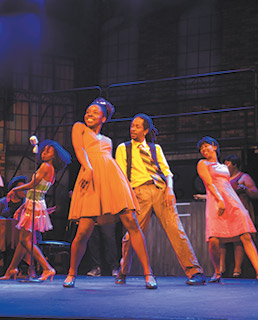 Choreography by Nicholas A. Owens and his company's dancing provided many of the highlights in "Memphis." (Photo courtesy of KaidyDid Productions)
"Memphis" is a fictionalized account of the early days of crossover music—crossover meaning engaging white audiences with music from black artists. Goofball go-getter Huey Calhoun sets out to get Felicia Farrell's music to the center of the radio dial and, in the process, the two fall in love. Along the way they face, in different ways, racism and reality.
Staged by KaidyDid Productions and the Indiana Performing Arts Centre at the Athenaeum for one weekend only, the production had its share of challenges—including a lead actor whose singing had to be covered from offstage because of laryngitis—but still managed to shine.
I won't say anything about lead actress Kat Council (except that she's got style, grace and strong musical talent) since, full disclosure, her equally talented husband is a member of the IBJ editorial staff. But it's asking too much to convince that her character was romantically interested in Calhoun (Russell Watson). The book doesn't give them much to work with and it didn't help that Watson often came across as Robin Williams playing Forrest Gump.
But the dancing—supplied by choreographer Nicholas A. Owens and his company—and the lead vocals offered what no other theater in the region can: A full and talented ensemble capable of shaking the rafters and rocking the stage. In our imaginary awards, let's throw in a nomination for Best and Most Spirited Dance Ensemble as well.
By intermission, I was already hoping for this theatrical collaboration to lead to future productions of such shows as "Purlie," "Aida," and "The Color Purple"—works that offer meaty roles for talented black actor/singer/dancers and that have been missing from our performing arts palate.
In a market where audiences can be hard to find for local theater, knowing that "Memphis" packed the house for four shows is a wonderful sign of hope.•
__________
This column appears weekly. Send information on upcoming arts and entertainment events to lharry@ibj.com.
Please enable JavaScript to view this content.