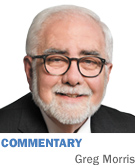 In this week's IBJ you'll find a special publication: A quarter century of community leaders, the silver anniversary of our highly coveted Forty Under 40 recognition program. With the induction of the class of 2017 earlier this year, IBJ has recognized 1,000 upwardly mobile young professionals since 1993.

These talented mavericks and innovators have consistently been the most influential young professionals in central Indiana each year—25 years running. And their early successes have proven to be a predictor for long standing successful careers, and in many cases, achievements anointing them as peers among the most influential leaders in our region's history.

Being personally involved with all 25 years of this historic program, I couldn't be prouder of these once-rising stars as we look back at the successes of each class. This is a diverse group of achievers. Yes, you'll find entrepreneurs and business leaders in the publication. But many other disciplines are also represented, including lawyers and judges, educators, elected and appointed government officials, athletes and sports leaders, not-for-profit professionals, arts and entertainment standouts, philanthropists, physicians and health care professionals, restaurateurs and chefs and media personalities.

IBJ's first Forty Under 40 class in 1993 was featured in an IBJ Focus section labeled "Hotshots to watch in Indianapolis." Then-Focus Editor Tracey Dooms started her introduction of the program with, "If you want a preview of Indianapolis 20 years from now, check out the following pages." Tracey was wise beyond her years with her insights, but none of us could have predicted the huge success and influence our recognition program would have over the next 25 years. And we still have plenty of talented individuals to recognize in the coming years.

I would like to give a special thank you to Bryce Bennett, partner of the law firm Riley Bennett Egloff. A member of IBJ's inaugural class, Bryce has been a tireless advocate of Forty Under 40 and has helped underwrite our annual recognition reception at the Skyline Club since the beginning.

I would also like to thank long-time Forty Under 40 supporter United Way of Central Indiana for sponsoring our annual recognition reception 23 of 25 years. I know many of our Forty Under 40 honorees have volunteered at United Way over the last quarter century, in many roles, helping the not-for-profit be the pre-eminent community-impact organization that makes central Indiana a better place for all.

Also, I would be remiss if I didn't thank the Central Indiana Community Foundation for its support of IBJ's Forty Under 40 program the past three years. CICF provides $40,000 annually in grant money that the most recent class of honorees designates to local organizations—and CICF also offers the proper training to help honorees evaluate the grant options.

I would especially like to thank our sponsors of this special publication and our year-long 25th anniversary celebration of Forty Under 40. I would like to offer my sincere thanks to KAR Auction Services, Katz, Sapper & Miller, Krieg DeVault and Langham Logistics for making this wonderful celebration possible. All four of these fine organizations demonstrate year after year why they are highly regarded as community leaders in their industries. Please consider finding a reason to do business with these folks in the future.

And a big thank you goes out to Marc Allan for interviewing members from each class and writing all of our Forty Under 40 flashback weekly features celebrating each class from 1993 to 2016 and for his help with this publication.

Additionally, IBJ threw a huge party commemorating this anniversary event at the Crane Bay Event Center downtown on Sept. 28. It was a night to remember. Thanks to Crane Bay for partnering with IBJ and making this great event possible. Look for some pictures from the event online. In fact, please be sure to check out IBJ's entire online presentation of our Forty Under 40 25th anniversary celebration at ibj.com.

I hope you'll retain our special publication as a keepsake. You'll be holding a significant piece of Indianapolis history! And be sure to keep reading IBJ in the future as we cover more historic moments in central Indiana.

It's been an honor to witness the growth of this amazing program over the past 25 years. Congratulations to our first 1,000 honorees, and here's to our next thousand! Happy 25th anniversary to all.•

__________

Morris is publisher of IBJ. His column appears every other week. To comment on this column, send email to gmorris@ibj.com.