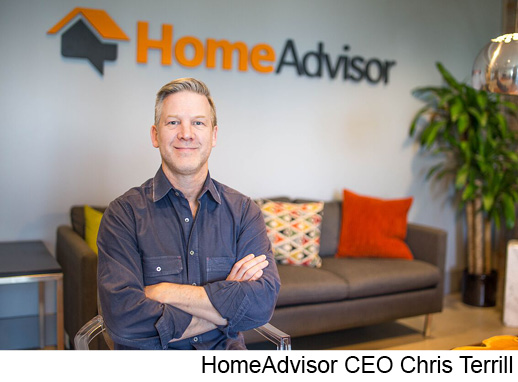 After more than 20 years in business, Indianapolis-based Angie's List Inc. is no longer an independent  company. It completed its long-planned merger with former rival HomeAdvisor on Friday and now exists as a brand within a new enterprise—ANGI Homeservices Inc.
Angie's List and HomeAdvisor will remain separate brands under different business models in the home services website arena. HomeAdvisor users get matched to a few service providers based on prompts, while consumers on Angie's List have access to scores of member-rated service professionals. HomeAdvisor is free for consumers but charges service providers annual subscriptions and lead fees. Consumers and service providers need not pay anything for Angie's List, but can do so to access premium features and purchase advertising.
Of the nearly 4,000 employees at ANGI Homeservices, 1,010 will come from Angie's List and 2,845 domestic and international employees will come from Golden, Colorado-based HomeAdvisor. Chris Terrill, CEO of the merged company, spoke with IBJ about his vision for the new business. Following are excerpts from that conversation, edited for brevity and clarity.
IBJ: What will ANGI Homeservices have that neither Angie's List or HomeAdvisor had individually?
TERRILL: I think scale. Scale is so important in this business. The more scale you have, the better you can roll out innovative products. Scale allows you to use data to better understand homeowners' needs and service providers' needs. 
And scale matters because, frankly, if you're a homeowner you want to go where the best pros are—the most pros are—and if you're a pro, you want to go where the best homeowners are and the most homeowners are.
IBJ: What innovative products and services are you thinking about?
TERRILL: Just recently, we rolled out nationally our same-day service product. You can imagine if the spring in your garage snaps and you can't get your car out. Wouldn't it be nice if someone could come by the same day—in an hour or two—and fix that so you can go about your day?
That's just one of the unique on-demand products that we have, and those are the types of things that you can effectively roll out when you have a sizable service provider base and homeowner base.
IBJ: What's your vision for what ANGI Homeservices will look like in, say, five years?
TERRILL: Our ultimate goal is to be the strongest marketplace, where, if you're a homeowner, you can come in and find the best service provider the way that meets your needs—whether its online booking, same-day service and using our matching algorithms. And, on the service provider side, it's how do we provide really high return on investment so they spend more time doing the work and not having to find the next job?
And, from the technology perspective, it's using things like voice. We're the only company that's really poised to integrate with voice applications so that it's easy to use your voice assistant to have a plumber come over. That's an extremely complex and difficult thing to do, and we have the matching algorithms, the technology and now the scale to be able to do those things effectively.
IBJ: What's your vision for the paid premium membership model at Angie's List?
TERRILL: There are tons on services where there's a free alternative and then there's some additional value that others want from a paid tier. We'll look and see over time, but I don't think it's problematic. 
We tend to lean more toward the free side, but having a paid tier is completely fine. That "freemium" model has been around for a long time and I don't think we plan on having that change anytime soon.
IBJ: Angie's List has shed at least 550 employees since January, and ANGI Homeservices is going to lay off 230 more. Is that it?
TERRILL: We have no other plans to have any other "right-sizing" for the business.
For comparison, when I took over ServiceMagic (HomeAdvisor's predecessor) here in Denver, we had a number of people who left. And they left because we were going to change how we did things. And I think that's always healthy for a business to some degree, because what ended up happening is, we ended up repositioning ServiceMagic, and we leaned into marketing over time and we really started growing the business. And we've been hiring like crazy ever since.
So, I think what you're seeing is, a sort of right-sizing of things that needed to happen for the merger, and then our goal is to lean into the Angie's List business and do some things that we think will fundamentally position the brand for future growth. 
IBJ: What are your plans for reigniting revenue growth with the Angie's List brand?
TERRILL: Immediately, you look at the power of our matching algorithm, and you look at the opportunity to put that into the Angie's List flow. We know that some consumers in the space want to come in and look at reviews and go through that process. Others are time-starved and have a simpler project and just want to get matched immediately. 
I think that's a great illustration of something very simple we've invested a billion dollars or so building. And our ability to integrate that into the Angie's List platform gives its consumers choice and opportunity that didn't exist before.
IBJ: What are your plans for the sprawling Angie's List campus here in town?
TERRILL: We don't have anything to announce right now, but I will say that we're highly committed to keeping Angie's List in Indy. We won't waiver from that.
We're looking at different options, including what are the alternatives in the city that best suit the business going forward?
IBJ: How does this merger affect HomeAdvisor's growth plans in Indianapolis?
TERRILL: We're actually continuing to expand and looking at additional opportunities. I think from day one we've been very pleased with the level of talent we've seen in Indy, and now we have the added benefit of being able to hire folks to work on the HomeAdvisor side and, I think in the future, the Angie's List team, and the combined teams as we integrate them.
IBJ: Do you expect for Angie's List employees and HomeAdvisor employees to continue to operate on separate campuses locally?
TERRILL: I think probably, out of just pragmatic logistics. As you know, when you're growing quickly and looking for space, you just try to get what you can get and get people organized as best around their day-to-day operations. 
But I think, philosophically, over a long period of time, we'd like to get everyone together so they can share those best practices and can talk to one another. But I think near term, there will probably be a little more of a sort of separation between the two just because it takes time to merge those things. 
IBJ: Since HomeAdvisor and Angie's List will remain two separate brands, who will be in charge of the Angie's List brand?
TERRILL: There will be leads, but there won't be one dedicated general manager or anything like that. That's not the way we structured it. And actually, because there's so much opportunity for integration, we've actually made it so that there are integrated teams that will be working on different brands, but they'll be sort of under the same marketing team, the same product team, the same legal team, etc. 
IBJ: What have you learned, positive or negative, about Angie's List, that you didn't know when the deal was announced in May?
TERRILL: From a positive perspective, I've been extremely pleased with the quality of the employees and their work ethic. And I've been pleased to have some of our assumptions validated.
We've always felt Angie's List has had a very strong brand. We've always felt they've had a strong standing with homeowners and service providers, and I think that's been validated. I think we all knew there were some challenges with that business model. I think they were addressing it. And everything we've seen has turned out to be very much in line with what we thought. 
This isn't a negative per se—just a reality—but I think that the number of consumers who understood that Angie's List had a free option is less than one might have expected. It's hard to make a major change, and it's expensive to tell people about that change. Once you're kind of locked into being known for something, that's kind of what people think. 
Many homeowners don't know that there's a free option. They heard of Angie's List, thought they had to pay for it, and now getting them to understand the value proposition that they can use a great service like Angie's List for free is where I think our work ahead is.
Please enable JavaScript to view this content.