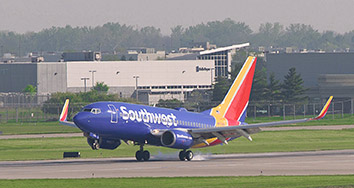 Southwest Airlines plans to discontinue its nonstop flights from Indianapolis International Airport to Washington D.C.'s Reagan National Airport next month.
The final day of nonstop service on this route will be Nov. 4, said Southwest spokesman Dan Landson.
Southwest established the route about three years ago but has decided to drop it because the service wasn't attracting enough passengers, Landson said.
"We are constantly monitoring local traffic demands and adjusting our schedule to fit the needs of the local traveler. Reagan National is a market where we tried making the route successful but ultimately we did not see the sustained traffic needed to make the route successful over the long term," Landson told IBJ via e-mail.
"We tried a variety of things to generate demand, adjusting the timing on the flights, but ultimately did not see the traffic to sustain the IND-DCA market," he said.
Southwest began serving Reagan National in 2012. It added the Indianapolis/Reagan National flight in 2014 as part of a major D.C. expansion that saw the airline increase its daily Reagan National departures from 17 to 44. As part of that expansion, Southwest added seven new nonstop routes from Reagan National: Indianapolis, Akron-Canton Airport in Ohio, Chicago Midway International Airport, Dallas Love Field Airport, Nashville International Airport, Louis Armstrong New Orleans International Airport and Tampa International Airport in Florida.
All of those other routes are still running with the exception of the Akron-Canton flights, Landson said. Those ended in June.
After Southwest ends its nonstop flights to Reagan National next month, Indianapolis passengers will still have other options. American Airlines offers nonstop service to Reagan National, and United Airlines offers nonstop service to the D.C. area's other airport, Dulles International Airport in Virginia.
"The Indianapolis International Airport has 10 daily, nonstop departures out of Indy to the Washington, D.C. area, even without the Southwest flight in question," airport spokeswoman Stephanie McFarland told IBJ in an email. "Currently, American and United both offer daily flights from Indy to the D.C. area, which provides daily capacity that meets or exceeds passenger demand."
Please enable JavaScript to view this content.