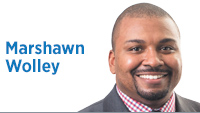 Leadership matters. In the 1960s, a nation's conscience stirred after seeing that black people could not do some of the most mundane activities like walking, sitting on a bus, eating at a restaurant, possibly even going to church without facing violence.

Leaders awakened the nation's conscience and mobilized the country toward action because Americans connected with other Americans at a human level. The country made important strides but it was hard work. The business of perfecting our union remains challenging.

Today, we have a new protest. Colin Kaepernick last year began protesting failures in the criminal justice system for black people by kneeling for the national anthem. But to believe that he and other athletes have been protesting the anthem is to believe the Montgomery bus boycott was just about public transportation. To be fair, while the above reference seems clear now, we are in a time where the meaning behind athlete's protests seem less obvious. Recently, the president and the NFL's reflexive desire to reaffirm our collective rights to freedom of speech further muddled the purpose of the protest.

I understand how kneeling during the anthem, at a time the nation is still engaged in its longest war is provocative—even offensive. It's as if one is seeing something that is clearly and indisputably outrageous. There is the matter of respecting those who died. I know that there is outrage, anger and a sense that protestors are being disrespectful. It is as if our heroes who have given the ultimate measure of devotion do not matter.

I empathize with people who see the protest this way because I feel the same way when I learn that the criminal justice system has failed another black person in America. Too often, the circumstances around the deaths of black people during interaction with police are clearly outrageous. There is usually a rush to shame the dead by the media. I feel outrage, anger and disrespect when my peers do not acknowledge what has happened. In addition, there is a deep fear in the black community that our justice system will not hold police accountable for taking black lives when outrageous incidents occur. It is as if black lives do not matter.

The experiences while not the same have their parallels at the level of human emotion. Explaining that the protest started under the Obama administration with Kaepernick sitting during the anthem and moved to kneeling out of respect just does not seem compelling. Explaining that police-action shooting data is incomplete and unreliable does not change the fact that, too often, black people die in circumstances where they shouldn't and no one is held accountable.

Despite recent confusion, there is an emerging understanding that the protest isn't about the flag or the anthem, but rather about racial inequality and problems with our criminal justice system. Some have sanitized the conversation into a freedom of speech debate where we can safely have a conversation about having a conversation—instead of having the tough conversation. Talking about government not encroaching on our free speech is easy. Talking about racial inequality, privilege and implicit bias is too hard.

I think there is room for some consensus. U.S. soldiers don't fight and die so that black people can be treated like second-class citizens by the criminal justice system. In addition, dissent meant to perfect our union is patriotic. When athletes stop kneeling soon, people of color will still face the same problems with racial inequalities in the criminal justice system.

Indianapolis needs our leaders to come together to discuss and address racial inequalities. Inequities based on race should shock the conscience. We need leaders to reawaken our conscience.•

Click here to see all of the latest Forefront columns.
__________

Wolley is a lecturer at the School of Public and Environmental Affairs at IUPUI.Send comments to ibjedit@ibj.com.