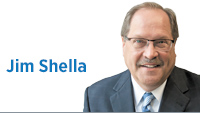 Protests are commonplace at the Statehouse. They happen weekly during the General Assembly, sometimes more often. Some are lame. Most are peaceful. Some are not. For example, there was a KKK rally in the '1980s that produced violence, injuries and arrests.
The rally that sticks out most prominently in my mind, however, is one that took place in the '90's. A convicted murderer was scheduled for execution and members of his family joined with death penalty opponents to stage a protest outside the governor's office one weekday afternoon. It was a large group and the mood was tense.
There was angry yelling and chanting and the banging of drums, lots of noise that reverberated off the Statehouse atrium and disrupted activity throughout the building. It went on for a long time. Some people were frightened. I was in awe.
I felt proud to live in a country where people could express their feelings in such a fashion without reprisal. I didn't side with the protestors—that's not a reporter's role—but was amazed at how they were able to petition their government in such vigorous fashion. They were under the close watch of the Statehouse security people, yet no one interfered.
And when it was over, the execution took place on schedule.
Freedom of speech is a concept most everyone agrees with in the abstract—but things change when it's exercised.
And that might help you understand why I viewed the recent protest by NFL players at a Colts game differently than maybe you did.
After President Donald Trump goaded NFL players about disrespecting the flag and encouraged team owners to fire them, it was guaranteed that a protest would be carried out.
I made sure I was in my seat prior to the national anthem because I wanted to see it. (I don't always get into the stadium that early.) I wanted to see how players chose to express their First Amendment rights and how others would react.
I thought it was a tribute to America that some of the players held on to the giant flag that covered the field at Lucas Oil Stadium while teammates nearby kneeled in protest. I respect all those decisions. I was also impressed at how many fans began to boo when they saw players kneeling. Without delving into the politics of this, it was hard to know if they were jeering the fact that people were exercising free speech or if they somehow disagreed with the point that they believed the players were making (because President Trump just made it easy for them to protest for any number of reasons). For the record, I support their right to boo.
I will say that all of this prompted discussion among fans in my row that was generally constructive.
I stood during the national anthem and placed my hand over my heart, as I always do, and so did most everyone in my section, from what I could see.
And then it was over. A football game took place and fans who booed kneeling players were suddenly cheering them.
Players who kneeled relied on players who didn't in a sport that requires teamwork, thereby proving it's possible to disagree and still get along with one another.
I just wish the president would work harder on bringing people together in the first place.•
Click here to see all of the latest Forefront columns.
__________
Shella hosted WFYI's Indiana Week in Review for 25 years and covered Indiana politics for WISH-TV for more than three decades. Send comments to ibjedit@ibj.com.
Please enable JavaScript to view this content.