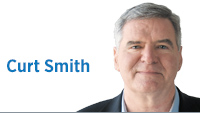 As the father of two major college scholarship athletes who both later played professionally, the escalating sports recruiting scandal saddens me. But the really sad news is it comes as no surprise.
Actually, the only surprise is that the National Collegiate Athletic Association, which governs all major college sports, allowed the corruption recently exposed to fester for so long. This willful blind eye compromises as well as victimizes kids.
With that said, I'm not throwing the NCAA under the team bus. Two of the finest not-for-profit executives I know each had long runs with the NCAA. The NCAA also favorably acted on a proposal I presented to treat the health care cost-sharing agreements of several not-for-profit ministries as equal to insurance. So I'm unwilling to say the NCAA is isolated or indifferent.
But I do believe how the NCAA responds to this federal bribery and corruption investigation will reveal whether student athletes will ever be valued above the bottom line.
Neither our son Andrew (Butler basketball, two Final Four appearances, many NBA tryouts before European League play) nor daughter Kimberly (Florida International University indoor volleyball; four top 10 finishes in Association of Volleyball Professionals tournaments this year) were recruited at the elite levels involved in the first 10 FBI arrests. The schools most interested (Butler, Liberty University and Penn State for Andrew; Purdue, FIU and Chicago's Robert Morris for Kimberly) would never have offered bribes. Nor would Andrew or Kim have accepted.
But even at their level, we heard stories and saw the massive loopholes. Recruiting, for example, is no longer via high schools. It occurs via club sports teams, with virtually no accountability and idiosyncratic sub-cultures.
Stories were legion about six-figure payments to the elite national basketball recruits, usually through some mechanism involving this loose-knit network of unaffiliated, unaccountable club sports teams. The Indianapolis Star revealed a sickening sex abuse scandal of girls and young women in gymnastics fostered by a "win-at-all-costs, coach-is-King" sub-culture. Moreover, this publication, through its book-publishing arm, revealed prostitutes were employed to recruit men's basketball prospects at the University of Louisville, which explains why its head coach and athletic director were the first dominoes down in this mushrooming scandal after the news broke.
So it is hard for the NCAA to say it could not investigate and get to the truth. That's what we recovering journalists call the First Amendment lament—yes, we love and even live by the First Amendment. But those with subpoena power and wiretap capabilities have a much better chance to bring down the bad guys and gals.
No, the truth was there for anyone seeking it, as The Star and IBJ reported.
Now it is the NCAA's turn to confront this sad, hard truth: Big money has broken college sports.
Hopefully the NCAA will step up and do its Indiana neighbors proud. We should expect no less. During the debate over religious liberty in 2015, the NCAA held Hoosiers hostage, threatening to besmirch our reputation as America's beautiful people and professional pundits headed to our capital city for the Final Four tournament. It is high time the NCAA lives up to its own professions and protects student athletes from actual criminal acts and brazen corrupt exploitation rather than fret over perceived prejudice projected onto our then-governor, Legislature, and by inference, the nearly 7 million souls who also call Indiana home.
Let's call an official timeout on the court, before timekeeping begins in another court, the court of public opinion, not to mention the court of law.•
Click here to see all of the latest Forefront columns.
__________
Smith is president of the Indiana Family Institute and author of "Deicide: Why Eliminating The Deity is Destroying America." Send comments toibjedit@ibj.com.
Please enable JavaScript to view this content.