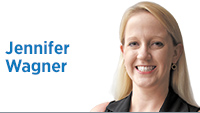 As someone who's worked in politics and advocacy for a long time, I've been to lots of protests. I covered more than a few when I was a reporter. I've dragged my kids to protests both to share with them the issues I care about and to show them how our democracy works.
Protests are great. You get to wear expressive shirts, make expressive signs, yell expressive things. You bond in anger with a group of your fellow humans over something that matters to you. Maybe you change some minds, or maybe it's just a cathartic moment. Either way, what could be more energizing or more American?
Recently, I had a new experience: I was on the other side, and it changed how I look at things just a smidge.
Instead of holding a poster with a pithy message, I found myself walking into an event—along with a small group of professionally dressed colleagues—where hundreds of angry people were yelling at me.
Now, they weren't specifically mad at me. They were mad at the person who was speaking at the event, whose name I won't share because it could have been any controversial speaker at any event in any place in America. I will, however, let you know that this took place on a college campus to provide a little context.
The crowd was riled up and we could hear their cresting chants inside the building. It was an impressive showing, and they were well organized. Several students offered me printed lists of questions to ask should I happen to find myself near a microphone inside.
Now, here are a few things I noticed that I'd never noticed before because I've always been in the thick of the anger, not standing awkwardly between the protesters and the venue entrance waiting for security to clear us into the building because no one notified them that we were part of the event. (Side note to event planners: Make your list and check it twice, please.)
First, plenty of people show up to object to something other than the issue at hand. I knew this because there's always someone at every protest with an unkind sign about the sitting president, but I was struck by the array of issues on display that had nothing to do with the event. Some people just like to protest, and this fine country of ours affords them the right to do it.
Second, it's easy to see how things can get out of control. When you're in the heat of the moment, you don't necessarily feel the intensity. When you're on the receiving end, the ebb and flow of the crowd is more apparent. People in groups take actions they would never take as individuals, swept up by the passion of the moment. When you're watching it instead, you see how one thrown bottle or fist can turn a rally into a riot. It's worth noting the incredibly difficult job law enforcement officers have walking the line between constitutional rights and preventing a dangerous situation.
Finally, the experience reinforced that words are powerful—and civility matters. Chanting about white supremacy, for example, might be invigorating for those doing the chanting, but as someone who is not, in fact, a white supremacist, it hurts to be called one.
None of this is to say that I'll never attend another protest, but standing on the other side of the security barriers—walking in someone else's shoes—will make me a more thoughtful protestor.•
Click here to see all of the latest Forefront columns.
__________
Wagner is a lifelong Indianapolis resident and vice president of communications at EdChoice. Send comments to [email protected]
Please enable JavaScript to view this content.