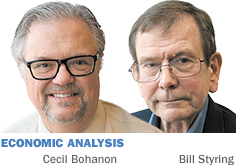 Index funds have boatloads of fans. No wonder. No fees for expensive stock-pickers, most of whom beat the market less than half the time. Fewer stock trades with correspondingly lower commissions. You just passively "buy the market"—the index robotically adjusts the portfolio to reflect changes in the relative market value of stocks and lets the dynamism of American capitalism whisk you to fortune. Money has poured into index funds since their inception 40 years ago, much to the detriment of their actively managed brethren.
Lately, however, this miracle of the market has come under a novel line of attack: Passive investing will be the death of capitalism! One commentator goes so far as to claim index funds are "worse than Marxism."
Here's the argument: Given current trends, someday all ownership of common stocks will be in index funds. Because purchases and redemptions of common stocks are on auto-pilot and in lockstep, the price of the common stock of any individual company will no longer reflect the company's earnings performance.
But capitalism depends on equities markets that reward and punish corporate managers for making profitable or unprofitable decisions. If the day comes when Innovative Inc. no longer enjoys a higher share price for good decisions and Clunker Corp. is not reprimanded by a plunging share price for boneheaded decisions, capitalism is finished. Under Index Fund Capitalism, corporate managers face no market discipline. Call it "The Blob That Ate Capitalism."
Well, don't panic yet. This is an interesting theoretical exercise whose dire predictions play out only if the market for individual stocks totally vanishes. As long as there is a market for individual stocks, some investors will have an incentive to buy into successful high-earning firms and dump the low-earning screw-ups. There will always be investors with the bucks and the motive to see opportunities in badly over- or undervalued securities. They will not settle for a stodgy index fund. So the appropriate price signals will be sent. The chances that index funds will destroy the market for individual stocks or capitalism are close to zero.
Think of it as, "What if everyone in central Indiana decided to show up at St. Elmo's next Saturday night?" It would be chaos, of course. But long before the line of customers crossed the county line, most people would have noticed the mess and made other dinner plans.
Still, "The Blob That Ate Capitalism" might make a nice creature feature.•
__________
Bohanon is a professor of economics at Ball State University. Styring is an economist and independent researcher. Both also blog at INforefront.com. Send comments to [email protected]
Please enable JavaScript to view this content.