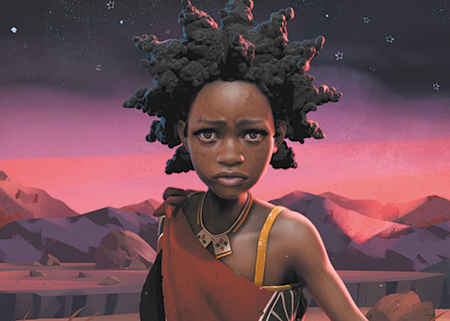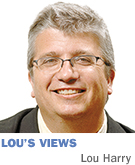 The Heartland Film Festival returns Oct. 12-22 and, as in previous years, I've screened as many of the films as I could in order to find a batch to recommend. Of course, with more than 200 films in the fest, I couldn't get to all of them (and some of the higher-profile ones weren't available for a pre-fest look), but my cache did include most of the awards contenders. Serving on the documentary jury helped as well.
So as you dive into the massive festival guide or try to find your way through the schedule at Heartlandfilmfestival.org, consider these as quality starting points. Most screenings take place at AMC Castleton Square 14 and AMC Showplace Traders Point 12.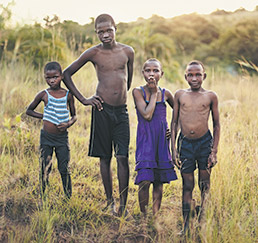 (Photo courtesy of Heartland Film Festival)
"Liyana"
My favorite Heartland 2017 film (so far) is this offering from Swaziland/USA/Qatar. Actually, it's my favorite two films. One is a documentary about children in an African orphanage encouraged to share their harrowing life stories and shape them into a fictional quest story. The second film is a boldly animated and remarkably suspenseful telling of that tale. Woven together, these two threads make "Liyana" a unique and powerful vision, beautifully realized by directors Aaron and Amanda Kopp.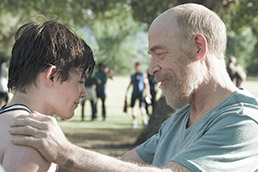 (Photo courtesy of Heartland Film Festival)
"The Bachelors"
Don't expect faux-reality-show dates and rose ceremonies. In this fiction film, Oscar-winner J.K. Simmons plays a grieving widower and Josh Wiggins his emotionally stranded son in this accessible, above-average story of hope and recovery that doesn't pull back when the emotions get complicated and rough.
"The Drawer Boy"
When a movie is based on a play—and follows the script closely—it can come across as stagey or it can be stronger because of the time-and-audience-tested material. "The Drawer Boy" is an example of the latter, essentially a three-character piece about an actor spending time with a pair of Canadian bachelor farmers to gather stories for a play. But his efforts to capture their lives takes a spin when, well, find out for yourself in this strongly acted, well-directed gem.
"American Folk"
There are so many ways this film about folk musicians forced to road trip across the country due to the grounding of planes immediately after 9/11 could have gone wrong. But writer/director David Heinz pulls this one off with subtlety, authentic affection for his characters, an understanding of the prickly nature of musicians (I'm guessing Elliott, the movie's leading man, might have been a fan of fellow fictional folkie Llewyn Davis) and a grasp of the weight any fiction that touches on the World Trade Center attacks must carry. Add in quirky (in a good way) support from characters met along the way—particularly David Fine as a Vietnam vet/mechanic and Miranda Hill and Emma Thatcher as a young lesbian couple—and "American Folk" becomes a journey worth taking.
 (Photo courtesy of Heartland Film Festival)
"True Conviction"
Some documentaries feel like the filmmakers knew all along what shape it would take. This one—about a team of exonerated men who have committed their lives to helping other innocent men get released from prison—features some twists and turns that couldn't have been predicted. With a strong mix of all-too-human characters and an important subject, "True Conviction" winds up with a keen understanding of the obstacles to justice—in the world and in ourselves.
"Quest"
Here's another rich documentary that gets richer as it progresses. Christopher "Quest" Rainey and his wife, Christine, offer their North Philadelphia music studio/radio station as a place where local wannabee rap stars can try out their stuff. But unexpected life events occurring over nearly a decade covered in the film enrich and deepen this strong look at both a family and a neighborhood.
"Purple Dreams"
Get out your handkerchiefs, theater lovers, for this documentary about at-risk high school students at work on a stage production of "The Color Purple." Yes, there are lots of "let's put on a show" docs out there, but this one pulls you in to the struggles and triumphs of its struggling students. After seeing it, consider spending an evening catching a high school play near you.
"Instrument of War"
War films are tough to pull off on a low budget. And this one starts out like a second-tier take on "The Great Escape," complete with tough prison guards and solitary confinement punishments. But rather than a daring breakout, "Instrument of War" deals with efforts to make a violin, a situation that would be difficult to believe if it weren't inspired by true events. And, as such, it's surprisingly engaging.
"Dealt"
A specialist in close-up card magic, Richard Turner is a magician's magician. He's also blind, which could have turned this documentary into an illness-of-the-week film. Luckily, Turner is also a difficult man who's hostile to the idea that he's got a handicap—even though it makes his skills close to miraculous. I wanted to know more about the "how" and, like most magicians, the film refused to reveal many secrets. But it does offer a compelling portrait of a man coming to grips with who he is.
"Keepers of the Magic"
There's got to be at least one film in every fest targeted to please the film fanatic. This one—a study of cinematographers and their work—doesn't just present a greatest hits lineup of stunning scenes. It also provides fascinating insight into the job itself, proving educational without being condescending. Bonus: A great anecdote about Glenn Close during shooting of a scene from "The Paper," a film I hadn't thought about in ages.•
__________
This column appears weekly. Send information on upcoming arts and entertainment events to lharry@ibj.com.
Please enable JavaScript to view this content.