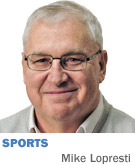 Here's to the winners. And not just any ole' winners, either, but the guys at the very top of the heap.

When Joe Tiller passed away the other day as Purdue's all-time leader in football coaching victories, it brought to mind how exclusive that club is. So here are some of the state's all-time W collectors, what they did, and what they couldn't do.

Tiller, for instance …

He followed three coaches who had a combined record of 54-107-5, so the bar for improvement was not exactly OneAmerica Tower high. Sort of like now. But he went way over it with 87 wins and 10 bowl trips in 12 seasons, including the Rose, which comes around this state about as often as Halley's comet. It remains the Boilermakers' only trip in 50 years.

He also had more Buckets than Lowe's, going 10-2 against Indiana. Tiller's last game was a 62-10 mashing of the Hoosiers, and is there a better way for a Purdue coach to leave the stage?

One thing he couldn't do: Break the Michigan-Ohio State spell, with a 4-12 record against the Wolverines and Buckeyes, though he usually played them close. And he beat Michigan 48-42 his last try in West Lafayette. No word on what the Wolverines thought of the locker room.

Bill Mallory …

He won 69 games in 13 seasons, which might not sound like a lot, until you remember this is Indiana football we're talking about. The Hoosiers have been on 11 bowl trips in all recorded time. Mallory accounted for six of them. He had a losing career record in Bloomington at 69-77-3, but so have all of the past 13 Indiana coaches. He's also the last Hoosier coach to beat either Ohio State or Michigan, and we're talking three decades ago. He even beat the Buckeyes twice in a row. The last Indiana coach to do that was in 1913.

One thing he couldn't do: Keep his job. For reasons still hard to fathom, he was fired by an administration with delusions of grandeur. Right after he had beaten Purdue again.

Bob Knight …

He is the unquestioned and possibly uncatchable Indiana basketball all-time leader in wins (662), national championships (three) and chairs hurled against Purdue (one). And there is barely enough trophy space for all the Big Ten championships.

One thing he couldn't do: Survive zero tolerance on his temper. You probably know the rest of that story.

Gene Keady …

He won 512 games with Purdue basketball, which is an amazing total for a guy forced to be Pepsi in his own state. Always No. 2. He produced 17 of the Boilermakers' 29 NCAA Tournament berths. And he owned a winning record—21-20—vs. Knight.

One thing he couldn't do: Get to the Final Four. He knocked on the door twice in the Elite Eight, and nobody answered. Hence, this bittersweet honor: Whenever anyone talks about how hard it is to get to the Final Four and how some of the best coaches never made it, his name is almost always Exhibit A.

Tony Dungy …

His 92 victories top the Colts in either of their lives—Indianapolis or Baltimore. And there was the Super Bowl Lombardi trophy, too, for one of the finest sporting moments this town has ever seen. Of course, it didn't hurt that he never coached a game here in which the starting quarterback was not named Peyton Manning.

One thing he couldn't do: Beat the San Diego Chargers in the playoffs. His last two teams were one-and-done in the postseason, courtesy of the Chargers.

Bobby Leonard and Frank Vogel …

Depends on how you want to measure the Pacers. Their all-time leader in victories is Leonard at 529, the godfather of this franchise, but that includes a big chunk of ABA games. If it's just the NBA, Vogel's 250 go at the top.

One thing they couldn't do: Leonard never coached in the NBA playoffs, Vogel never reached the NBA Finals, always running into LeBron James, which is the Eastern Conference's version of a bug running into a windshield.

Tony Hinkle …

No. 1 in Butler basketball coaching wins (560), No. 1 in football (165), No. 2 in baseball (335). Did he ever have time for lunch? No wonder his name is on the landmark that sits by 49th Street. He also came up with the idea of the orange basketball, so the fans and players could see it better. The gimmick stuck.

One thing he couldn't do: Make Butler a national force in March. Another guy named Stevens, you might recall, came along to do that.

Knute Rockne …

He won lots of football games at Notre Dame—105, to go with only 12 losses in 13 years—and made lots of good pregame speeches.

One thing he couldn't do: Beat fate. What would his record have been had he not died in a plane crash at the age of 43? To put that in context, the No. 2 man in all-time Irish wins, Lou Holtz, did not coach a Notre Dame game until he was 49.

And some others …

Duane Klueh is Indiana State's all-time basketball winner. The guy who's 13th on the list might ring a bell. John Wooden.

John Magnabosco is Ball State's top football victor at 68, and needed 17 years to do it.

Many of Valparaiso's basketball coaching records belong to one family. Homer Drew is No. 1 with 371 wins, son Bryce No. 2 with 124. Throw in his other son Scott's 20, and that gives the Drew clan 515—or 38.3 percent of Valpo's all-time victory total.

Digger Phelps made wearing carnations cool, upset seven top-ranked teams, won 393 games, and led Notre Dame to its only Final Four. But the clock is ticking on his reign at No. 1 on the victories list. Mike Brey is 11 away. This list rarely needs updating, but it's about to.•

__________

Lopresti is a lifelong resident of Richmond and a graduate of Ball State University. He was a columnist for USA Today and Gannett newspapers for 31 years; he covered 34 Final Fours, 30 Super Bowls, 32 World Series and 16 Olympics. His column appears weekly. He can be reached at mjl5853@aol.com.