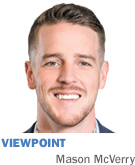 AOL founder Steve Case rolls into town Oct. 12 with his "Rise of the Rest 6.0" bus tour to celebrate entrepreneurialism and spotlight the financing struggles of startups in emerging technology hubs like Indianapolis.

This is great for Indy and the latest of many exciting developments for Indiana's tech scene, including the passage of legislation creating the Next Level Indiana Trust Fund, which will make $250 million available to support entrepreneurship and innovation throughout the state.

Case does a great job shining the high beams on early-stage companies far from the nation's tech-and-money hubs and gets a lot of ink for writing $100,000 checks to winners of pitch competitions in each city he visits. But lack of capital isn't limited to startups.

Hundreds of established growth-stage companies here in Indianapolis and throughout the state also require access to capital to fuel growth by enhancing existing products and services, adding capabilities through acquisition, or a combination of both. Capital can be a game changer in their ability to innovate, tap unrealized growth potential, retain and attract talent, and even survive the next economic downturn.

Getting investors' attention has never been easy for growth-stage firms. The big dogs of private equity have ignored tech companies in markets like Indianapolis and remain more focused on chasing the next billion-dollar-plus "unicorn" in the Silicon Valley/New York/Boston axis.

This should matter to everyone who cares about Indy's future as a center of technology and innovation.

A recent Brookings Institute analysis ranked Indianapolis No. 7 in the United States in growing its share of tech jobs over the past five years (while 86 of the top 100 metro areas saw their share stagnate or shrink). Another study shows Indy growing STEM jobs faster than all but four cities over the past decade.

Startups excite us with their potential, but that's not where all those jobs are coming from. Later-stage companies, by contrast, contribute significantly to the local and state economy, creating lots of jobs, paying taxes, and supporting networks of suppliers. They are the startups of 10 or 20 years ago and now have proven business models, real revenue and even profits to show for their efforts.

A casual observer might wonder why more tech investors haven't discovered Indianapolis. Indy offers attractive opportunities to partner with "high growth/low hype" companies—typically B2B businesses selling products or services into an enterprise, often with a stable, recurring, fast-growing revenue base.

Many are companies with founders and early investors looking for a payday after years of sweat equity and an accomplished management team that wants a partner to help drive growth and build enterprise value. A great example is Healthx, founded in Carmel in 1998. With a 2011 investment by growth-equity partner Frontier Capital, Healthx transformed itself from a niche health care portal company into an industry-leading engagement hub for patients and health care payers.

Indianapolis will produce its share of unicorns like ExactTarget, sold to Salesforce for $2.5 billion in 2013. But the city and region are so fortunate to have an abundance of attractive growth-stage companies like Healthx—the proverbial "20-year overnight success"—playing a critical role in driving the local economy.

All they need is the capital to grow.•

__________

McVerry is director of business development for Frontier Capital, a Charlotte, North Carolina-based growth equity firm focused on software and tech-enabled business services companies in emerging technology hubs. Reach him at mmcverry@frontiercapital.com.