The Indianapolis Colts have unveiled a statue of Peyton Manning on a plaza outside Lucas Oil Stadium in a ceremony attended by hundreds of fans and featuring remarks from Hall of Famers coach Tony Dungy and executive Bill Polian, and NFL Commissioner Roger Goodell.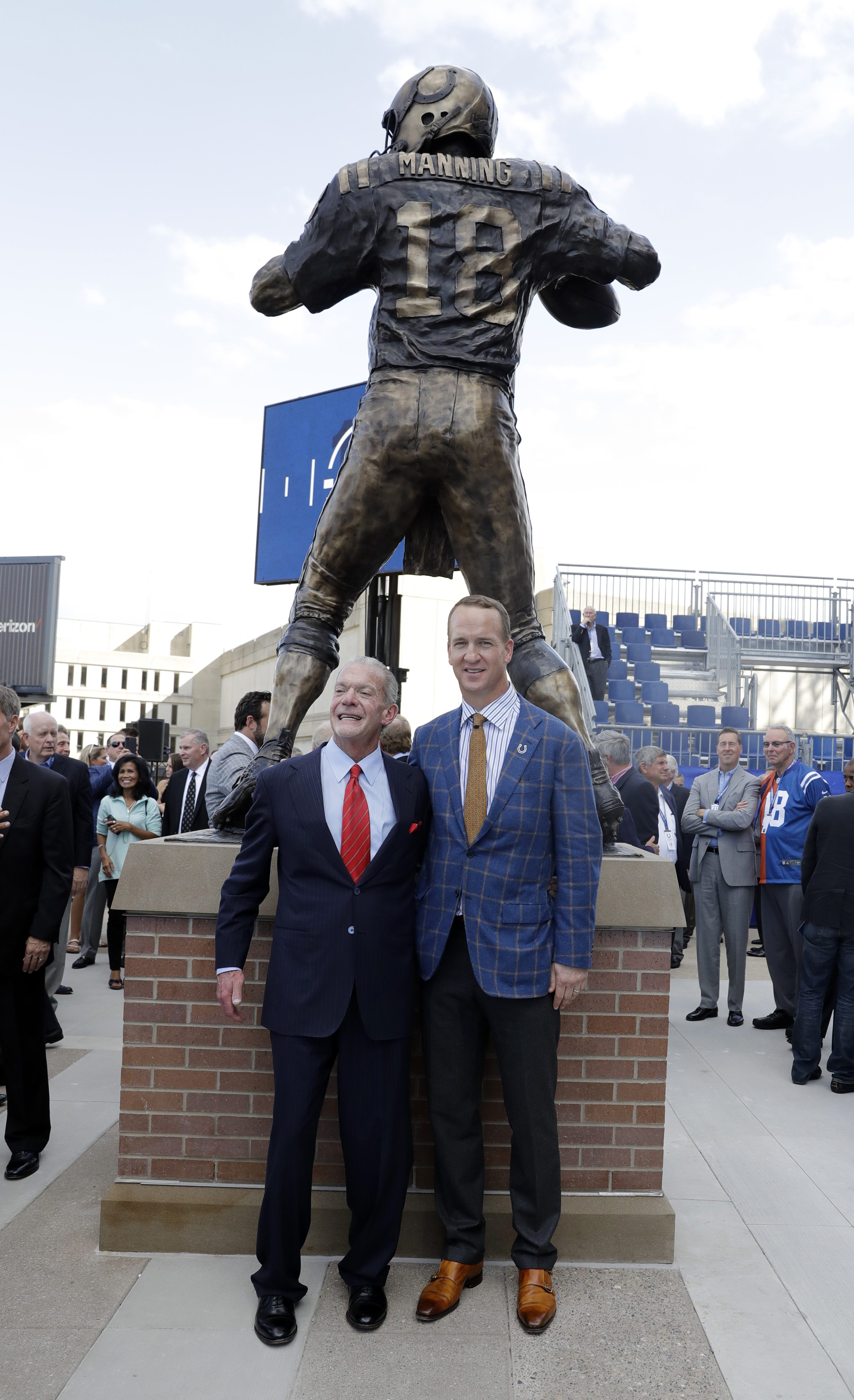 The five-time NFL MVP concluded the event Saturday by proclaiming "I will always be a Colt" and throwing autographed footballs into the crowd.
The bronze likeness features Manning in his Colts uniform preparing to throw a pass. It was a rare time he wasn't quite prepared.
"I keep checking my health to make sure everything checks out," Manning told The Associated Press on Friday. "I'm not sure you're supposed to be alive to see something like this."
But he was alive and kicking and ready to celebrate with more than a dozen former teammates back in town Saturday.
Indianapolis Mayor Joe Hogsett and former Indiana Gov. Mitch Daniels also spoke, as did longtime Colts center Jeff Saturday. Even David Letterman made a surprise appearance in what Manning informally dubbed an all-Indiana event — with the exception of Goodell.
"We all salute Peyton for being a tremendous ambassador for his community, our league and our game," Goodell posted on Twitter after the ceremony.
Everyone wanted a part.
Vice President Mike Pence, another former Indiana governor, is scheduled to arrive in Indy on Saturday night and plans to attend Sunday's game against San Francisco. Manning will be honored again with his induction into the team's Ring of Honor. He also will become the first player from the franchise's Indianapolis era to have his jersey retired.
Goodell was not planning to attend Sunday's game.
Bud Light even launched a Youtube video that included three of Manning's former backups in Indy: Brock Huard, Jim Sorgi and Curtis Painter.
Manning finished his career as the NFL's career leader in yards passing and touchdown passes. He had two Super Bowl titles and a league-record five MVP awards.
He played 14 seasons with the Colts, leading Indy to two AFC titles and brought and its only Super Bowl victory, 29-17 over the Chicago Bears in early 2007. He was voted the Super Bowl MVP.
After missing the entire 2011 season with an injured neck, the Colts released him and he wound up signing with Denver.
With the Broncos, Manning set single-season records for yards passing and TD passes, played in two more Super Bowls and earned his second championship ring before retiring.
Please enable JavaScript to view this content.