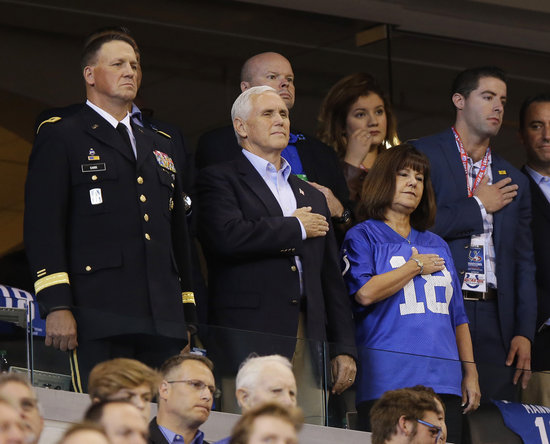 Vice President Mike Pence left the 49ers-Colts game after about a dozen San Francisco players took a knee during the national anthem in Indianapolis Sunday, the latest move by President Donald Trump's administration to clash with NFL players over patriotism and public demonstrations.
The former Indiana governor flew in so he could watch Peyton Manning's jersey retirement ceremony. Pence didn't stick around long.
Right around kickoff, Pence wrote on Twitter: "I left today's Colts game because @POTUS and I will not dignify any event that disrespects our soldiers, our Flag, or our National Anthem."
The White House also issued a statement from Pence, in which he said Americans should rally around the flag. Pence said: "I don't think it's too much to ask NFL players to respect the Flag and our National Anthem."
Trump has called on NFL owners to fire players who don't stand for the anthem and urged fans to boycott games in a series of tweets after he first criticized the demonstrations during a Sept. 22 rally in Alabama. White House officials have viewed it as a winning issue for the president, who has sought to remain closely connected to his working-class base of Midwestern voters who helped elect him.
After Pence's walkout, Trump tweeted: "I asked @VP Pence to leave stadium if any players kneeled, disrespecting our country. I am proud of him and @SecondLady Karen." The tweet raised the question of whether Pence's actions had been planned in advance.
San Francisco 49ers safety Eric Reid said Pence's departure looked like "a PR stunt."
"He knew our team has had the most players protest, he knew that we were probably going to do it again," Reid said. "This is what systemic oppression looks like: man with power comes to the game, tweets a couple things out and leaves the game in an attempt to thwart our efforts."
NFL spokesman Brian McCarthy declined to comment on Pence's walkout. The Colts also had no comment, and after their 26-23 overtime victory, Indianapolis coach Chuck Pagano steered clear of the issue.
"No," Pagano said when asked if he had any reaction.
On Sunday night, Dallas owner Jerry Jones said the NFL can't leave the impression that it tolerates players' disrespecting the flag and that any of his Cowboys making such displays won't play.
Responding to a question about Pence leaving the game in Indianapolis, Jones said after the Cowboys' 35-31 home loss to Green Bay that the league can't "in any way give the implication that we tolerate disrespecting the flag." Of his own players, the Hall of Famer said, "If we are disrespecting the flag, then we won't play. Period."
The Cowboys knelt arm-in-arm before the national anthem when they played at Arizona two weeks ago. Players, coaches and others, including Jones and his family, were among those in the line. All of them stood during the anthem, with arms still locked.
The NFL players' union said in a statement Sunday night that discussions about issues by the league's players should not be stifled.
"NFL players are union members and part of the labor movement that has woven the fabric of America for generations," the NFLPA's statement read. "Our men and their families are also conscientious Americans who continue to be forces for good through our communities and some have decided to use their platform to peacefully raise awareness to issues that deserve attention. It is a source of enormous pride that some of the best conversations about these issues have taken place in our locker rooms in a respectful, civil and thoughtful way that should serve as a model for how all of us can communicate with each other.
"We should not stifle these discussions and cannot allow our rights to become subservient to the very opinions our Constitution protects. That is what makes us the land of the free and home of the brave."
Colts players stood in unison, locking arms but standing throughout the anthem.
But the 49ers have been among the most visible protesters in the league. Last year, former quarterback Colin Kaepernick started the movement to kneel or sit during the anthem, and Reid and other teammates backed him up on and off the field.
Retired announcer Brent Musburger joined the fray on Twitter on Sunday night.
"Yo #49ers Since you instigated protest, 2 wins and 19 losses. How about taking your next knee in the other team's end zone?" Musburger posted.
Pence flew in Saturday after a statue of Manning was unveiled, an event attended by a number of luminaries including NFL Commissioner Roger Goodell. The vice president had spent most of Saturday honoring victims of the Las Vegas shooting before returning to his home state.
Aides to the vice president did not respond to questions on whether he had planned to make the public walk-out in the game against the 49ers, who have regularly held the demonstrations. Pence's trip to Las Vegas and Indianapolis was announced on Friday.
After leaving the game, Pence departed Indianapolis for a three-day trip to California that includes three fundraisers and an event on the president's push for a tax overhaul.
Pence, who attended last year's Super Bowl, is a noted sports fan and it was the second major event he's attended in his home state since taking office in January. He also attended May's Indianapolis 500, a family tradition.
Please enable JavaScript to view this content.