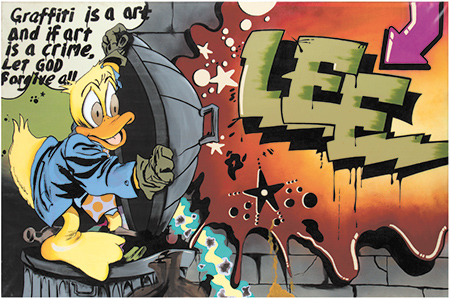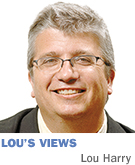 On the streets, it's difficult—and perhaps beside the point—to see graffiti as art independent of its canvas and its surroundings. The subway car, the street sign, or the formerly blank schoolyard wall are integral to experiencing the work.
And so, it's no surprise that context is as important as content in "City as Canvas," the touring show from the Museum of the City of New York currently on display at the Indianapolis Museum of Art (through Jan. 28).
The challenge of such a show is that most of the work cannot be shown in a museum in its original form. I'm not talking about the challenge of getting a train car into a gallery. Rather, it's that the train wasn't owned by the artist in the first place and that the art itself is long gone, most likely acid-washed away by officials trying to clean up the vandalism.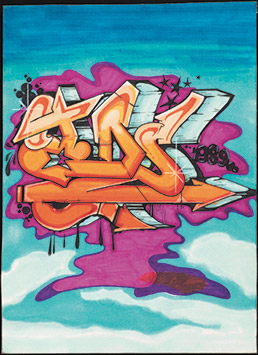 Part One, TDS (The Death Squad), 1989, ink
(Photo courtesy of Newfields)
Side note: Has there been another show where the artists ("writers," as many liked to be called) were committing crimes in pursuit of their art? I don't mean to sound dismissive. To dismiss the best of graffiti art as just vandalism is naive. But to deny its criminality is also naive. At its peak in the late 1970s and early 1980s, more than $10 million a year was spent on graffiti removal in New York City.
There are no such cleanup worries at the IMA, where samples of work are up for examination far from the streets they were created to comment upon. And guards are on hand to make sure you don't take inspiration from their artists and add your own tags.
What's on display comes from the collection of Martin Wong, who took an early interest in the colorful, fresh artwork he saw popping up around him.  
While he couldn't take possession of tagged subway cars, he did help legitimize the form by acquiring artists' sketchbooks as well as works on canvas and other materials. Far from its image as mere spontaneous spray painting by amateurs, he found that much of the work was carefully crafted, representing individual esthetics.
Without much to put a frame around, the show's original artwork is heavily supplemented with photographs. Much of the work comes from pseudonymous artists (there are exceptions, Keith Haring being the highest-profile), but with easily tag-able names such as Delta 2 (Calvin Gonzales), Sharp (Aaron Goodstone) and Daze (Chris Ellis). Taken individually, they range from the equivalent of drawings you'd find in a middle-schooler's Trapper Keeper to bold, interesting amalgams of ego, talent and chutzpah sprinkled heavily with pop culture appropriation.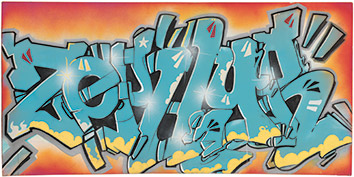 Andrew (Zephyr) Witten, Untitled, 1984, acrylic
(Photo courtesy of Newfields)
There's a pleasant airiness to the galleries housing the show at the IMA, which have been transformed into something of a train station set—albeit an unrealistically stark and clean one. Sections are marked using large circular icons a la the New York subway system and there are even train sounds played throughout. An opening tableau anchors visitors in the NYC battles of the '70s and '80s, when the city's crime problems were front-page news.
Yet the attempt to immerse us in such a carefully crafted environment seems to have the opposite effect, exaggerating the inherent disconnect when graffiti art is on display in a museum.
If the esthetic were truly embraced and appreciated, wouldn't an institution allow artists to spray paint its walls—or even paint over existing works? Isn't that the nature of the art form?
Beyond individual images, perhaps the most telling piece in the show is an interactive in the midst of the galleries featuring faux spray-paint cans (with hiss sound effect included). These allow visitors to make faux art on a video screen.
It should get a lot of play. But, accentuated by the graffiti-can cocktail shakers for sale in the gift shop, it makes me wonder what the writers themselves would make of the Disney-fication of their youthful—and highly influential—artistic cries for attention.•
__________
This column appears weekly. Send information on upcoming arts and entertainment events to lharry@ibj.com.
Please enable JavaScript to view this content.