If the very thought of Portillo's entering the central Indiana market made you quiver with anticipation, then a trip to the new Portillo's (9201 E. 116th St., Fishers, 317-588-1111) should be just the Portillo's experience you are looking for.

If, however, you are new to the Chicago-based chain, you might find yourself not quite at the same level of ecstasy as your Windy City pals.

You might feel—as I did—that you are dining at a theme park restaurant with prices a bit lower and food a notch better than most such places. With long lines, empty-seat-scouting, counter pickup, self-busing, plastic cutlery, and food items wrapped in paper, you'd half expect roller coasters or water slides right outside the door (Well, you've got Ikea—that's close).

I'm not knocking the nostalgia. I understand gravitating to the familiar and wanting a comforting place that reminds you of your home turf, and I can recall eagerly awaiting the rare opportunity to dig into a steak from Sizzler. But those who don't carry such memories of Portillo's should be prepared for "good enough" rather than "Oh my God!"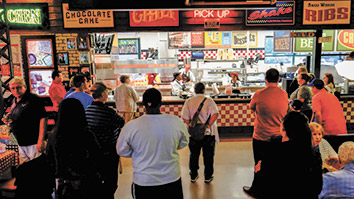 After placing an order, Portillo's patrons await the call of their numbers.
(IBJ photo/Eric Learned)
The Hot Dog ($2.95) has the requisite mustard, relish, celery salt, chopped onions, tomatoes and peppers and comes with a nearly dog-length kosher pickle. A soft poppy-seed roll keeps it relatively intact. We had less luck with Char-Grilled Maxwell Street Style Polish ($4.19) which was overloaded with grilled onion and took the "char" way too seriously at one end of the sausage—burned-to-a-crisp would have been a more accurate choice of words. The Italian Beef ($5.59), while not top-of-its-genre, could inspire those who haven't tasted one before to add it to their sandwich repertoire.

The lightly breaded, deep-fried Fish Sandwich ($5.75) one-ups what you'd find at McDonald's, and the Burger ($4.69) is a 1/3-pounder char-broiled and topped with what you'd expect. No big winners but no losers, either. I like more character in Onion Rings ($2.29) than I found here and the French Fries ($1.95/$2.13) could have been served hotter. The Bowl of Chili ($3.79) was another that wouldn't win any contests, but rose above over-salted versions usually found in diners.

We nearly passed on the pasta side of the menu but decided at the last minute to tack on a Chicken Parmesan ($9.39—one of many strange price points here). It proved to be the most pleasant surprise of the evening. No major frills, just a lightly breaded skinless chicken breast topped with mozzarella and parmesan over a bed of spaghetti with an ample supply of housemade marinara sauce. Uncomplicated but better than much more expensive versions I've had in traditional Italian restaurants. The only downside was that we had to eat it at home, since what arrived on our tray was the Lasagna ($8.69) and getting the order right required a lengthy revisit-and-wait amid the throng at the counter. By the time we got the parm, the rest of my party was done dining.

Portillo's, as reported in IBJ, is already planning a second location in the area. If it were down the block, I'd certainly be back.

And now I will sit back and await whatever IBJ reporter (and Illinois native) Hayleigh Colombo throws at me as she reads this.•

—Lou Harry