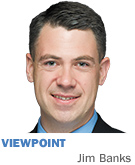 Since 2011, when Congress passed legislation limiting defense and non-defense discretionary spending, the Department of Defense has been forced to make a series of "damned if you do, damned if you don't" tradeoffs.
The Budget Control Act pressured the Pentagon to make no-win choices on whether to prioritize today's or tomorrow's readiness. These cuts have forced difficult decisions between maintaining aging, inefficient infrastructure and equipment or investing in technology to enable our forces to more efficiently and effectively combat future threats.
According to the nonpartisan Congressional Research Service, federal spending devoted to defense programs has fallen as a share of gross domestic product every year since enactment of the BCA. In 2011, defense outlays equaled 4.5 percent of gross domestic product. By 2021, the last year of the BCA limits on defense discretionary budget authority, the Congressional Budget Office projects that defense outlays will equal just 2.9 percent of GDP. For historical context, spending on defense programs equaled 8.4 percent of GDP in 1960.
Layered on top of this decline is Congress' inability to pass full-year spending bills on time and reliance on passing continuing resolutions, which hold spending to the previous year's levels and keep the Pentagon from redirecting funding to meet emerging needs. According to the Government Accountability Office, these failures have contributed to training deficiencies and maintenance challenges. The Department of Defense is now studying whether these funding issues are contributing to the staggering rise in accidents over the past three years, a time in which we have lost four times more service members to non-combat accidents than in combat.
The BCA's impact has been felt here as well. According to analysis by the Indiana Office of Defense Development, Indiana has been losing defense market share at the rate of 10 percent per year, every year since 2011. As a result, many small and medium-size manufacturing businesses have left the defense industry to pursue opportunities in the commercial sector.
The good news is, there is a growing commitment in Washington to reverse these trends and rebuild our military. The bipartisan National Defense Authorization Act, passed by the Armed Services Committees in Congress and expected to be signed into law, authorizes $700 billion in defense spending and begins rebuilding the readiness, capacity and capabilities of our forces.
Indiana is well-positioned to play a larger role in our country's national defense. The state's robust system of military installations, universities, industry partners and the nation's fourth-largest National Guard collaborate on sophisticated projects and form what I call our "Hoosier Arsenal of Democracy." Working together, Hoosiers are tackling the most acute security challenges facing our nation.
I recently had the opportunity to visit military installations and defense industry partners around the state, and I saw firsthand how this collaborative approach is finding new efficiencies and meeting our readiness needs. In one example, Naval Surface Warfare Center Crane in southwestern Indiana is examining cutting-edge technologies and cost-effective methods to modernize our nuclear triad by encouraging commonality between the Air Force and Navy on missile systems.
Under the BCA and continuing resolutions, priorities such as modernizing our nuclear triad have become nearly impossible. However, thanks to the work being accomplished by the brilliant minds at Crane—many of whom graduated from Indiana schools—new options of strategic importance are being created.
In the midst of a divisive time in Washington, Congress must work together to address the readiness challenges we face. Indiana is poised to do its part to help rebuild America's military.•
__________
Banks represents Indiana's 3rd District. He serves on the House Armed Services Committee.
Please enable JavaScript to view this content.