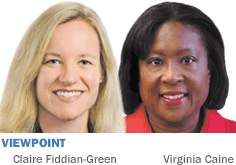 Health advocates have made strides to curb high rates of tobacco use among blacks, as shown by a 10-percentage-point drop in smoking rates among black Hoosiers since 2011.
While we celebrate this progress, we also must acknowledge the persistent reality: Thousands of blacks continue to die each year from smoking-related illnesses. In Indiana, blacks still smoke at slightly higher rates than whites—and significantly higher rates than Hispanics—and are disproportionately affected by diseases linked to tobacco, including cancer, diabetes and heart disease, as well as infant mortality. What's more, tobacco company marketing efforts are often concentrated in black and low-income communities.
This should motivate us to redouble our efforts at curbing smoking, especially among blacks, and build upon the successes that groups such as the Indiana Minority Health Coalition, Indiana Black Expo, Smoke Free Indy and the Marion County Public Health Department have achieved to date. Doing so will save lives, improve equity in health outcomes, and make our state more vibrant and thriving.
One in five Hoosiers smokes cigarettes, and our smoking rate is 5 percentage points higher than the national average and 39th among all states. Smoking plagues Indianapolis, which has among the highest rates of the nation's 30 largest cities.
More than 11,000 Hoosiers die prematurely each year from smoking, and another 1,400 die from secondhand smoke. Smoking costs Indiana $2.9 billion in health-related expenses and puts a $2.6 billion annual toll on employers due to lost productivity and higher health care premiums.
Evidence from around the country points to three changes that would reduce smoking among all Hoosiers, including blacks.
The first is raising our cigarette tax, which is lower than all but one of Indiana's surrounding states at 99.5 cents per pack. Raising the tax at least $1.50—to $2.50 or more per pack—will help spur more than 58,000 Hoosiers to quit smoking, prevent 49,000 children from becoming smokers, and save an estimated $2.1 billion in health care expenses.
Consider, for example, our neighboring state of Illinois, which raised its cigarette tax $1 per pack, to $1.98, in 2012. The state's smoking rates among blacks have subsequently declined, from 20.8 percent in 2013 to 16 percent in 2015, with rates among white Illinoisans also declining—by 3 percentage points.
Raising the legal age to purchase tobacco products to 21 might also help curb tobacco use. Ninety percent of smokers first use cigarettes by age 19. Creating a stronger barrier to entry would help keep teenagers from trying smoking.
Indiana also needs more resources to counter the annual $284 million in tobacco marketing that permeates Hoosier communities—48 times what the state spends on tobacco prevention. We need more funding to support those who want to quit and need support in recovery. To date, outreach efforts by the Marion County Public Health Department, Marion County Minority Health Coalition and other initiatives have helped reduce the percentage of black adult smokers in Marion County from 28.5 percent in 2013 to 23.8 percent in 2015.
This should provide momentum for a sustained campaign to curb tobacco use among blacks and across the population. By marshaling community will and deploying evidence-based strategies, Indiana can save thousands of lives and make meaningful progress toward making our state healthier and more vibrant.•
__________
Fiddian-Green is president and CEO of the Richard M. Fairbanks Foundation. Caine is director of the Marion County Public Health Department.
Please enable JavaScript to view this content.