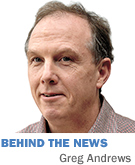 Noble Roman's Inc. seems to have nine lives. It's had so many ideas for growth that didn't pan out over the years that its latest venture—a return to stand-alone pizza pubs—naturally is going to draw out skeptics.

But the funny thing is that early results from the new growth strategy are promising. And thanks to a new lending agreement worked out with Cincinnati-based First Financial Bank, its financial underpinnings no longer are shaky. Gone are the days when the company had to patch together financing in small increments, including borrowing hundreds of thousands of dollars from Executive Chairman Paul Mobley and his son, CEO Scott Mobley.

The positive developments have nudged up the company's long-sputtering stock (though it still trades for less than 65 cents). But if the plans the Mobleys have been assembling over the past two years continue to show positive results, investors might again get a taste for the shares, and Noble Roman's restaurants might again become ubiquitous across Indiana.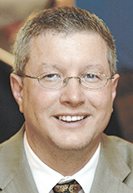 Scott Mobley
Scott Mobley in an August statement called the stand-alone concept, Noble Roman's Craft Pizza & Pub, "potentially the company's most valuable growth opportunity," allowing it to increase revenue more quickly than it could solely from its main business of franchising Noble Roman's outposts in non-traditional locations, including convenience stores and hospitals, and licensing grocery stores to sell freshly made pizzas. Noble Roman's has about 750 nontraditional locations, and it has licensing deals with about 2,000 groceries, perhaps half of which are actively participating at any given time.

But let's not get ahead of ourselves. Today, there is just one Craft Pizza & Pub, which opened near Grand Park Sports Campus in Westfield on Jan. 31. Even so, early results "have greatly exceeded management expectations," Noble Roman's said in September. Through the first two quarters, the restaurant generated $766,000 in sales and had expenses of $555,000, Noble Roman's said in a regulatory filing.

The new lending agreement with First Financial provides $4.5 million to pay off prior lenders, including Chicago-based BMO Harris Bank and Newport Beach, California-based Super G Capital, plus $1.6 million to fund the opening of three additional company-owned Craft Pizza & Pub locations.

The first is expected to open next month at 6428 Whitestown Parkway in Whitestown, and the second is expected to open in January in the Fishers Station shopping center at East 116th Street and Allisonville Road. Scott Mobley said in an interview that the company is scouting locations for the fourth location, which probably will be in the northern suburbs.

"We are focusing on getting these company units open and operating," he said. "As that progresses, we will be intensifying our efforts at franchising."

After it opens the four stores, Noble Roman's plans to rely on franchising for all or nearly all the growth that follows. The company already has struck a deal with a restaurateur for an Evansville Noble Roman's that's set to open early next year. Mobley said that, over time, franchisees might open dozens of restaurants in Indiana, with initial locations concentrated in central Indiana.

In a way, it's a back-to-the-future strategy. The company, founded in Bloomington in 1972 and now based in Indianapolis, operated more than 75 stand-alone pizzerias during its 1980s heyday.

But the late 1990s saw abrupt shifts in strategy. First, in 1996, Noble Roman's announced plans to expand east by buying the Boston-based chain Papa Gino's for $10 million, a deal that unraveled before closing. Then, with the pizza wars intensifying across Indiana, the chain shuttered dozens of locations and shifted its focus to franchised, non-traditional outposts.

More recently, Noble Roman's bet big on selling stand-alone take-and-bake pizza franchises. The company had 22 franchises open in late 2014 and envisioned having 70 by the end of 2015. But the store count dwindled instead, as locations failed, and last year the company took a $1.6 million charge to shut down the effort.

Noble Roman's officials believe there's ample reason to think their new pub format—which features counter ordering, with food runners delivering pies to customers' tables—will fare better than the restaurants the company shuttered two decades ago.

For starters, Craft Pizza & Pub uses new cooking technology that prepares pizzas blazing fast—2.5 minutes for traditional pizzas and 5.75 minutes for deep dish pizzas that in the old days would have taken 15 to 20 minutes.

Then, there's the ambiance and amenities. Guests can watch employees make fresh pizza and breadsticks from scratch in a glass-enclosed "dough room," watch black and white shorts on TV (similar to the chain's early days), or drink root beer from the root beer tap.

The restaurant also boasts a bar with a far larger selection than the Noble Roman's of the past. The Westfield location has 16 wines to choose from and 16 beers on tap.

"It's a fun vibe, a fun atmosphere. It's very much a family atmosphere," Mobley said.•