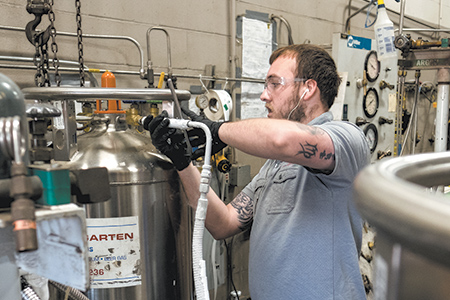 It's an age-old business challenge: How do you change with the times while staying true to your roots?
React to industry shifts too slowly and you might be left behind. But step too far out and you risk getting lost.
Indianapolis-based Sutton-Garten Co. is a welding supply and industrial gas company that seems to have found the right balance.
Established in 1918, the family-owned company started out as a Prest-O-Lite acetylene lighting distributor and welding shop. It still sells and services welding equipment but has also ventured into welding instruction, bulk delivery of carbon dioxide and other gases, and dry-ice manufacturing.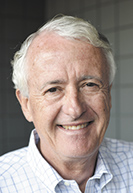 Pat Garten
"We're always looking for the next thing," said sole shareholder, Pat Garten, the company's president and chief operating officer and grandson of co-founder William "Ray" Garten.
Ray Garten's partner, Charles Sutton, sold his share of the company in 1923, but the business's name remained the same.
"My grandfather was thrifty and didn't want to get rid of the stationery," Pat Garten said with a chuckle.
Though the name hasn't changed, Sutton-Garten's lines of business have evolved through the decades. This selective diversification strategy—trying things that are new, yet related to the core business—seems to be paying off.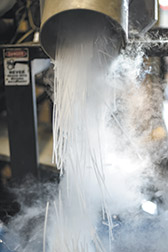 The dry ice Sutton-Garten makes for customers that use it to "blast" equipment clean comes in pellets that resemble broken spaghetti strands. (IBJ photo/Eric Learned)
The 32-person company expects to see revenue of $12 million this year, up from $11.7 million a year ago. And two of its newest lines of business—bulk gas delivery and dry ice—are becoming significant parts of the operation.
Until 2006, the company's business lines were nearly all welding-related: equipment sales, rental and repair—along with a welding-gas cylinder-exchange service. At that time, the company had 17 employees.
Then, Pat's son Matt Garten suggested the company get into bulk gas sales. (Another son, Ben, also works for the company.)
A big part of the gas sales comes from carbon dioxide, which retailers use in their fountain soda machines and beer dispensers. Customers include sports venues such as Lucas Oil Stadium and a host of fast-food and convenience-store outlets within a roughly 100-mile radius of Indianapolis.
Today, Pat Garten said, bulk carbon dioxide delivery accounts for about 15 percent of sales.
Once Sutton-Garten started dealing in carbon dioxide, the frozen version—dry ice—seemed the next logical step. Its temperature is 109 degrees below zero, and as it melts, it turns back into a gas, producing a smoke-like visual effect that leaves no mess behind. The combination of an extra-cold nature and unique melting properties make dry ice suitable for uses as varied as keeping shipped products cold long distance, and creating special effects for stage productions and haunted houses.
Also, a variety of industries use it in a cleaning process known as dry ice blasting, which is similar to sandblasting. An operator uses a machine to shoot a stream of dry ice pellets at an object's surface to remove contaminants. Operators can adjust the pressure and size of the pellets, making the process suitable for everything from cleaning industrial equipment to removing residential mold, Garten said.
The company got into dry ice production and sales in 2008, and that part of the business currently accounts for about 10 percent of revenue. Its dry-ice customers are within about a 150-mile radius.
Sutton-Garten recently expanded production capacity, Garten said, to keep up with demand coming from both e-commerce shippers and customers wanting "blasting ice".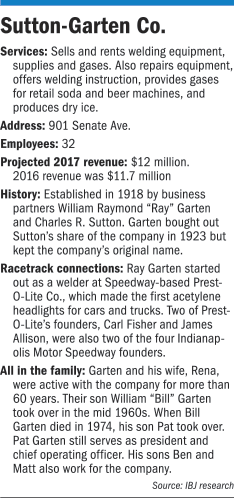 "I feel real optimistic about it," he said. "It's a real good growth area for us."
Over the summer, the company invested $600,000 to double its dry ice production—to 60 tons per day—including the purchase of another dry-ice-making machine and the installation of a 50-ton carbon dioxide chiller tank.
The company can produce dry ice in three sizes. For shipping purposes, it produces both blocks and the 16-millimeter pellets, which resemble foam packing peanuts. For "blasting ice," it produces 3-millimeter pellets, which resemble broken strands of spaghetti.
Sutton-Garten has also made moves over the years to help sustain its own industry.
In 2007, it added a classroom space where both professional welders and hobbyists can learn new skills and pursue industry certifications, and it supports area vocational schools by participating in advisory councils that help them develop training programs.
Garten said his company has a vested interest in reaching out to young people: "They're our future customers."
The business world has changed dramatically since Sutton-Garten was formed.
The company's founders had both worked for Prest-O-Lite, the Speedway-based company that made acetylene lights for cars and trucks. Prest-O-Lite owners Carl Fisher and Jim Allison, who were also part-owners of the Indianapolis Motor Speedway, sold Prest-O-Lite to Union Carbide & Carbon Corp. in 1917.
Eighty-four years later, in 2001, Union Carbide became a wholly owned subsidiary of The Dow Chemical Co., which itself merged with DuPont earlier this year.
The welding and gases industry has also seen its own changes. Within the last 20 years or so, large corporations like Praxair Technology Inc. and Airgas Inc. have gobbled up many of the independent distributors.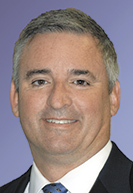 Ospina
But the industry still offers opportunity for smaller companies nimble enough to spot and react to niche opportunities, said John Ospina, executive director of the Florida-based Gases and Welding Distributors Association.
The big distributors are powerful, but slow to change course, like ocean liners, he said.
"If you have a little boat, you can make turns really fast," he said.
Diversification is common among welding distributors, Ospina said, especially ones that have been around for decades.
In addition to dry-ice manufacturing, he said, some companies have ventured into propane and barbecue-equipment sales, as well as industrial gases for things like flash-freezing food or powering halogen lights.
"There's a huge, huge amount of industry around the use of gases—things that you probably wouldn't think of," he said.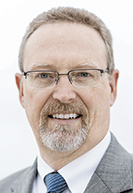 Landis
In the bigger picture, Sutton-Garten is an outlier in that it has survived so long as an independent company.
"They're definitely in the minority," said Brian Landis, managing director of the Butler Business Consulting Group, part of the Andre B. Lacy School of Business at Butler University.
The key to survival, Landis said, is for a company to "pivot strategically" to keep up with industry changes, while staying within its areas of strength. "That's a thing that keeps a company going for a long time."
Looking ahead, that's what Garten envisions for his company. "It's a good industry and an interesting business. We hope it stays in the family."•
Please enable JavaScript to view this content.