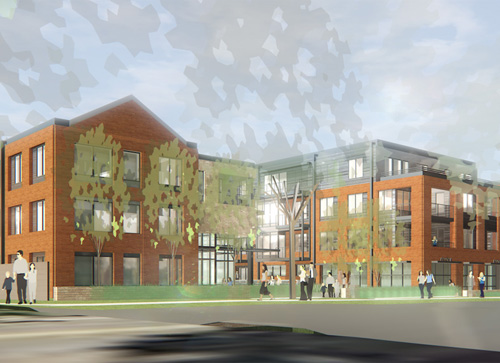 Indianapolis-based apartment developer Milhaus Development LLC has raised $245 million in equity investments that will help fuel its plan to build thousands of units over the next few years.
Milhaus was expected to announce the capital infusion at a Thursday afternoon press conference at its headquarters on Virginia Avenue in Fletcher Place. Indianapolis Mayor Joe Hogsett and Indiana Gov. Eric Holcomb both were scheduled to attend the event.
Milhaus has developed and built more than 3,800 apartment units—mostly in Tier II cities in the Midwest, the Carolinas and Florida—since its founding in 2010.
The investments are expected to help the company meet its goal of having 20,000 apartment units in 10 cities by 2020, CEO Tadd Miller said. He said the company should start construction on an additional 1,548 units by the end of 2018, bringing its portfolio value to more than $1 billion.
"This allows us to really focus on running the business," he said. "That's a big relief, a big change of pace. We never have had this much equity up front before."
Existing investors will contribute $70 million, while most of the cash will come from two new private equity backers. They are New York City-based StepStone Group Real Estate LP ($100 million) and suburban Denver-based FrontRange Capital Partners LLC ($75 million).
StepStone is a private markets firm that oversees about $120 billion in investments, including $32 billion of assets under management. FrontRange is a private-equity firm that invests in real estate and high-growth businesses.
FrontRange founder and CEO David Robertson is a former co-president and chief financial officer of Apartment Investment and Management Co., or AIMCO.
Miller said he had known Robertson and key FrontRange executives for years but never really thought about doing a deal with them because the firm typically invested in larger projects than what Milhaus was building.
The investments will enable Milhaus to pursue projects in southwest Florida, in addition to Kansas City, Pittsburgh and Cincinnati, while retaining ownership of most of its existing apartment portfolio, which includes the three-phase Artistry project in Indianapolis, Lift in Oklahoma City and Highland Row in Memphis.
In February, Milhaus put its 12-property apartment portfolio on the market—a package that included 2,195 units in six markets—to further the company's growth.
Of the 12, Milhaus ended up selling four, including three in Indianapolis.
Carmel-based Birge & Held Asset Management LLC paid a total of about $34 million in September to buy the 105-unit Maxwell and the 65-unit Mozzo. The Maxwell, at 530 E. Ohio St., is a five-story, contemporary art deco building that also features 11,000 square feet of ground-level office space. Mozzo, at 531 Virginia Ave., opened in 2013 and replaced a former BMV branch and parking lot.
And Milhaus is set to close soon on the sale of the 265-unit Circa at 617 N. College Ave. in the Chatham-Arch Historic District.
Also, Milhaus sold the 131-unit Gantry in Cincinnati.
Milhaus' properties generated strong interest from up to 25 bidders interested in buying either pieces of, or the entire, portfolio. Miller said.
"It was the largest [apartment portfolio] on the market in the country, and it wasn't Class C properties," he said. "The product was really sexy."
Locally, Milhaus plans to start construction in the next few weeks on the $23 million MK apartment project along North College Avenue in the Meridian-Kessler neighborhood, hence its name.
The mixed-use development will be built on the former AT&T property in the 5800 block of College, south of Kessler Boulevard, and is finally ready to proceed following a lengthy battle with some neighbors opposed to it. The project calls for 100 apartment units and 9,200 square feet of street-level retail space.
Please enable JavaScript to view this content.