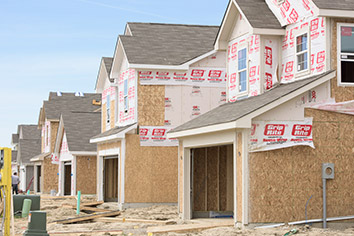 Area home builders saw a rare slowdown in demand in last month, according to the latest report from the Builders Association of Greater Indianapolis.
Builders filed 442 single-family construction permits in the nine-county area in September—5 percent fewer than the 466 permits that were filed in September 2016, BAGI said Wednesday.
Monthly filings hadn't fallen on a year-over-year basis since February and had risen in 23 of the previous 25 months.
Despite the monthly decline, filings are up 6 percent so far this year compared with the first nine months of 2016, from 4,447 to 4,708.
Permit filings dropped 11 percent in Marion County, from 75 in September 2016 to 67 last month.
Hamilton County saw a 3 percent dip in filings, from 171 to 166.
Hendricks County filings fell 7 percent, from 72 to 67.
Johnson County filings declined 32 percent, to 49.
Hancock County filings jumped 19 percent, to 32, and Boone County filings increased 17 percent, to 35.
Morgan County reported eight filings and Shelby County had seven.
Madison County saw filings increase from six to 11..
Please enable JavaScript to view this content.