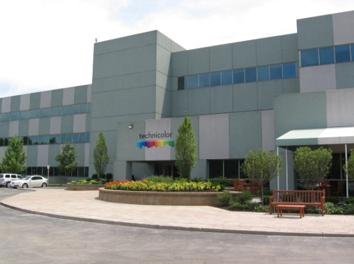 The company once known as Thomson Consumer Electronics plans to shut down its operations in Carmel—a decision expected to end employment for as many as 125 mostly high-wage workers by the end of the year.
Technicolor, which operates as Technicolor USA Inc. and Technicolor Connected Home USA LLC in Carmel, confirmed to IBJ on Wednesday night that it would be closing its facility at 101 W. 103rd St. as part of a consolidation that will shift more work to its operations in Lawrenceville, Georgia.
The local operations are housed in a portion of an office building on the North Meridian corridor that was once part of the North American headquarters for Thomson Consumer Electronics, which was long known for producing RCA products. More than 2,000 people worked at the headquarters at its peak in the 1990s.
The landmark two-building complex—designed by late architect Michael Graves, completed in 1994 and known for its green checkerboard facades—is now mostly occupied by St. Vincent Health and Geico Insurance.  
A source familiar with local operations said Technicolor eliminated about 45 jobs in Carmel in July, primarily in engineering, leaving about 150 employees in engineering, technology, finance and administrative roles.
Only about 25 of those workers, mostly hardware engineers who work with client Comcast, are expected to retain their local jobs after the closure, according to the source. They will be moved to a new office elsewhere in the area. It's possible some of the employees will be offered work in Georgia, the source said.
In a notice filed by the state Thursday, Technicolor said the closing would affect 95 employees, with "separations" occurring from Dec. 17 to Dec. 31.
Technicolor operated as a subsidiary under the Thomson umbrella from 2000 to 2010. But media giant Thomson SA—the France-based parent of Thomson Consumer Electronics—changed its corporate name to Technicolor SA in 2010 after going through a major financial reorganization. The Thomson Consumer Electronics operations (then known as Thomson Multimedia) were renamed Technicolor USA.
Technicolor is well-known for its history in color film technology, but the company makes most of its revenue these days by developing and selling digital gateway devices and technology used by cable, satellite and phone companies, such as set-top boxes, modems and digital adapters. Among its clients are AT&T, Verizon Wireless, Comcast and CenturyLink.
Much of the design and development work for those products was being done in Carmel, but Technicolor began shifting more work to Lawrenceville (near Atlanta) after it acquired the Connected Devices business unit from Cisco Systems in late 2015 for $600 million.
"Technicolor confirms it is closing down its Indianapolis facility as part of the ongoing rationalization of its footprint in the United States," Technicolor spokesman Lane Cooper said in an email to IBJ. "The company is simplifying and optimizing its operations as it continues to build its Connected Home business in the wake of the Cisco Connected Devices Business Unit acquisition. The Lawrenceville facility near Atlanta is now—and will continue to be—the largest center of excellence in developing technology solutions for network service providers in the North American region."
The company declined to provide further information about the closure.
Paris-based Technicolor employs about 17,000 people worldwide. It reported $5.8 billion in revenue in 2016.
Please enable JavaScript to view this content.