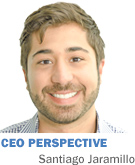 You've likely heard the Jim Collins quote: "If you have more than three priorities, you don't have any." If we have limited time and money to invest in our people and our culture, we have to get smart about where we spend.
Strategy is not about what we say yes to, but about what we say no to. The key question then becomes: How do we know what to focus on with our culture and employee-engagement efforts?
Unfortunately, most of us are not strategic with our culture- and engagement-improvements efforts—71 percent of executives rank employee engagement as critical to achieving business goals, yet, shockingly, only 24 percent of those respondents say their employees are highly engaged.
This doesn't mean leaders aren't trying. It doesn't even mean leaders are doing the wrong things. After speaking with hundreds of C-level "cultural champions" around the country, I've found most leaders are doing too many things to improve engagement and thus spreading their resources thinly across many initiatives. Worst of all, they don't know which investments are actually working.
We don't have the data or validated insights to confidently prioritize where to invest. So here are four big ideas for creating a bold, focused and effective engagement-improvement strategy for your organization:
1. Figure out your top one or two root "disengagement" problems. Establish a benchmark through a valid, employee-engagement survey that provides actionable, rapid insight into top areas of concern. When a very low engagement driver surfaces, probe deeply into the cause with more focused questions sent to the group who has the problem. Once you reach the heart of the problem, you are halfway done! Whatever the concern, first we need to understand it, then define it and only then move to action.
2. Formulate a strategy based on those top two disengagement problems. Make a plan. Better yet, acknowledge the focus area for improvement to the team and ask the team for ideas on solutions. When you choose a plan, communicate that plan to team members and tell them why you chose it. They surfaced concerns, so let them know you're investing strategic time and resources to remedy what they raised. This "listening, understanding, communicating and then acting" loop can have remarkable effects in building trust in leadership. To employees, a 10 percent increase in trust in leadership can mean as much as a 36 percent increase in salary—don't overlook that.
3. Measure the targeted low engagement driver again at the end of that initiative. Don't wait until the end of the year—annual surveys are outdated proxies for insight in today's ultra-agile and fast-paced world. Follow up quarterly using a quick, focused and valid engagement survey to see if the problem was actually solved.
4. Realign, recalibrate, move on. See if your efforts moved the needle. If not, recalibrate with an alternative strategy. If yes, great; shift resources to your next objective.
As an example of this four-step methodology, T-H Marine, provider of high-quality boating accessories, conducted a company-wide engagement survey to pinpoint deep insights about the culture of each team. When the results revealed that the production team felt underused, T-H Marine purchased more advanced equipment for its employees, speeding up the time to complete a certain task by 30 percent. By addressing a high-impact pain point uncovered by data, T-H Marine has been able to add $3.8 million in production capacity while reducing risk of injury, mitigating fatigue and enhancing morale.
When leaders narrowed their focus to one concern and used true, data-driven insight to successfully rectify it, they could move forward to the next objective.
We can agree employee engagement is critical to business success, so it's time we try a measured and focused strategy designed to prioritize the initiatives that will make the biggest difference.•
__________
Jaramillo is co-founder and CEO of Emplify.
Please enable JavaScript to view this content.