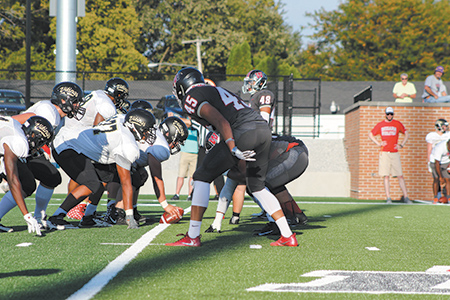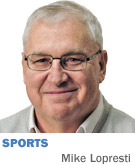 MARION—The spiffy, nearly completed football stadium at Indiana Wesleyan University sits empty on the weekends this fall. But it won't always be that way.
The new head coach spent a recent Saturday taking his kids to the pumpkin patch. Saturdays next fall will be a little busier.
The 60 freshmen players who have come here from 13 states, basically on good faith, will not win one game this season. Won't lose one, either.
Behold, the birth of a program. Indiana Wesleyan has basketball national championship trophies in its display case, rows of conference title hardware in various sports, and the No. 37 jersey of Brandon Beachy, who journeyed from the Wildcats baseball program to the starting rotation of the Atlanta Braves. But the school never has had a football team before.
Now it does.
As Coach Jordan Langs said, explaining his move into the unknown from the staff of Division III powerhouse Wheaton College, "It's an opportunity you may never get to do again, and most people never get to do ever."
Jaron Harris Jr., a linebacker who landed here from Olive Branch, Mississippi, because he liked the college and liked the prospects, had this take: "Coming to another school, you have seniors who can show you the ropes and set the bar. Here, really, we set our own bar."
There's this from Athletic Director Mark DeMichael: "I've had a lot of other athletic directors say, 'What, are you, crazy? Football is a beast; why would you do this to yourself? You've got that athletic machine running at Indiana Wesleyan. It's cruising. Why would you want to upset the apple cart?'
"Those are valid questions. The most consistent thing I heard as I did my research— and I think I talked to every AD or VP at every small school that started football in the last decade—was, 'The only thing worse than not having football is having bad football. So if you're going to do this, you've got to do it right. Don't do it halfway, or it will just suck the life out of your athletic department. If you do it right, then it's a game-changer for your institution.'"
That's what Indiana Wesleyan has in mind, starting next Sept. 1, with its first game: Taylor, from 20 minutes down the road. Instant rivalry. The rest of the schedule is coming together, too.
"It's not hard," DeMichael said, "finding teams who want to play a first-year program."
Finding the right teams for a maiden season is the trick. The year after, Indiana Wesleyan goes into the Mid-States Football Association.
Are they eager here? Oh, yeah. The announcement the school was adding football came at 1 p.m. on April 1, 2016. They only smile here when you mention that was April Fools' Day. By 1:15, workers were already clearing dirt for the new stadium.
This won't be easy. Modern football has its problems, from economics to concussions. And it won't be cheap—$16.3 million to get rolling. The school's board of trustees authorized $6 million for a jump-start, and the rest is coming from donations.
A study convinced the school's high command that the future would be brighter with dozens of new students—and their tuitions—on campus.
Let DeMichael explain. 
"It became very clear, if we wanted to expand male enrollment, that's a no-brainer: football. And in our culture today, if you want to expand your brand and extend your mission through athletics, football is the No. 1 spectator sport in our country.
"It had its challenges. The difficulty in selling it was overcoming people's fears of what football can do, because people read about all the negatives of college football and they don't hear as much about the positives. It was basically, 'Trust us enough to give us a chance.' To be honest, the biggest selling point for our campus was the history of our athletic program.
"It's not cheap to do, but at a college like ours, you take away 120 football players and their tuition revenue, and take away the expenses of football, you're going to realize you're not saving anything."
This fall has been for practices, scrimmages with outside teams, and bonding exercises to blend all the new faces together. The Wildcats might not have played a football game, but they have gone bowling together, taken in movies, put on a talent show.
And dreamed of next September.
There's linebacker Hunter Terrell, for instance, who came from Homestead High School near Fort Wayne. He will forever be the first recruit to sign to play football at Indiana Wesleyan.
"I have been called the godfather of the program," he said. "I'm not saying I like it."
He remembers the impression on his visit—"Wow, we don't even have a stadium yet"— and the odd feeling of being the only player in a program for a few days. "I'm sitting there, thinking, 'Are we going to have a team?' I spent a lot of thought and prayer. I was like, 'God, I just committed here and no one else has committed; please answer my prayers.'"
Others soon joined him.
"There was some hesitation, but I thought more of it as an opportunity to build on things," he said. "Indiana Wesleyan is an awesome school and I see education as a first priority, and football second. You don't get this type of opportunity at other places—all this individual attention and time to focus. If I were to go to a place like [Fort Wayne's] St. Francis, I'd be on the scout team."
There's Harris, the linebacker, who doesn't mind an autumn with no games.
"It makes the practices that much more important. It gives us more time to focus on the little things and turn the big mistakes into small mistakes. That way, come next year, they won't be mistakes at all."
There's Langs, who got this job the summer of 2016, but didn't think it right to leave Wheaton without a defensive coordinator at the last minute. "So all last fall, I was coaching at Wheaton and I was recruiting for IWU. It was me and about 400 kids in the database."
He moved here in December, and in five days, hired his first two assistants and started hosting recruits. The school said it wanted at least 50 signees. He reached that by mid-February, offering a sense of mission. "We're a Christ-centered institution. We're different than a lot of people and we weren't going to shy away from that. We are who we are and that's what we're going to sell."
Now the challenge is to keep the numbers coming. 
"The thing I've noticed the most in the last two months is, my mental state as the head coach has very little to do with football," Langs said. "My mind is focused on laying the foundation correctly, which is player retention.
"We want our culture built on love, trust and devotion. Well, there's no upperclassmen where we can say, 'That's what our culture looks like.' So as coaches we become a model. We're the coaches; we're the seniors. That's what makes this really unique."
One day, his world will be more X's and O's. But not yet. "I've got three young kids at home with a fourth on the way, so me getting to spend Saturdays with my family is not the worst thing in the world."
But Sept. 1, 2018, is coming. There were 800 fans at a recent scrimmage. A good sign.
Something Harris said about Indiana Wesleyan: "They're ready for football. We're ready for football."•
__________
Lopresti is a lifelong resident of Richmond and a graduate of Ball State University. He was a columnist for USA Today and Gannett newspapers for 31 years; he covered 34 Final Fours, 30 Super Bowls, 32 World Series and 16 Olympics. His column appears weekly. He can be reached at mjl5853@aol.com.
Please enable JavaScript to view this content.