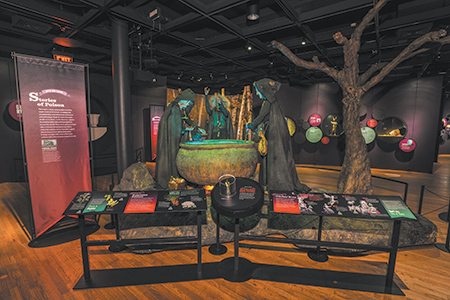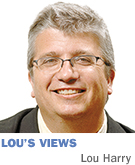 Sometimes, the most interesting general-interest museum shows are ones involving subjects you might not have thought much about. Such is the case with "The Power of Poison" (through Feb. 11 at the Indiana State Museum). The touring show from the American Museum of Natural History looks not only at the biology, but also at the myths and legends, surrounding toxic substances.
After a brief introductory area, the first section is an immersive re-creation of the Choco Rainforest (Warning: The light is atmospherically dim, which could make reading some of the posted material a bit challenging).
Here, live golden poison frogs are under glass—neutralized since their power comes from their diet. We see examples of blow-gun darts and learn about the toxins in the seeds and stems and pretty much any other part of the Manchineel Tree.
A display shows how the harmless Mexican milk snake copies the look of the dangerous poisonous coral snake, giving it an appearance that keeps predators away. Another outlines how animals sometimes consume clay as a preventive treatment for toxins. My favorite fact found here: Scorpions first emit pre-venom, an easier-to-produce shot of pain. If that fails, then they shoot the heavy stuff. Think of it as the animal kingdom's warning shot.
It's not just animal and insect info on display here. Apparently, clever humans of long ago came up with the idea of packing ceramic pots with such scorpions to hurl into enemy camps, including the fortress of Hatra 1,800 years ago.
The myth area offers encounters with the familiar—Harry Potter, Snow White and the witches from Macbeth all make appearances (although poison was more key to Shakespeare's Romeo and Juliet, also mentioned). With multiple text panels around many of the pieces, it might take a little searching to figure out, for instance, why the rabbit statue behind glass is standing on two legs carrying a root (turns out it's illustrating an African story from the Ama people of the Sudan).
I was glad to see the material wasn't all kid-focused. A panel about Will-Erich Peuckert, for instance, tells about his test of a 1589 recipe for a "flying ointment" to see why exactly it was thought "witches" could take flight. Given the ingredients—including opium poppies, belladonna and wolfsbane—plus wild dancing, nobody should have been surprised at the result.
And, yes, "Don't try this at home" warnings are clearly posted.
Some of the historical figures with notable interactions with poison will be more familiar, including Ponce de Leon, Cleopatra, Napoleon and Nero.
While much of the show is look-and-read, some of the video work is cleverly presented via technology, including a pair of myths using urns for screens and an interactive, animated touch-screen book. There's also a chance to play detective with a trio of mystery stations where visitors try to get to the bottom of toxic crimes.
While none were running on my visit, "The Power of Poison" also includes scheduled Meet a Scientist encounters in the Poison Experiment Theater, including programs on how to tell poison from candy.•
__________
This column appears weekly. Send information on upcoming arts and entertainment events to [email protected]
Please enable JavaScript to view this content.