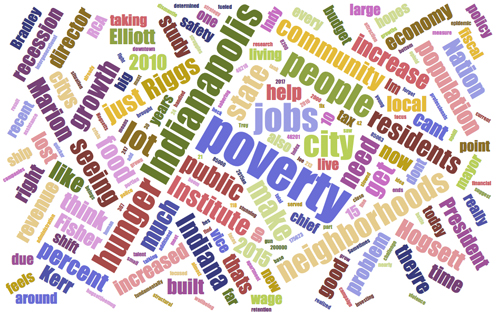 Troy Riggs saw Indianapolis residents' struggles with poverty up close when he served as Indianapolis' public safety director and police chief.
But Riggs, now the vice president at local think tank the Sagamore Institute, said it was "stunning" to find out through his research at the institute just how much the city's problem has grown in recent years.
The bottom line of Sagamore's 2017 "Public Good Index" is sobering: The portion of Indianapolis residents living in poverty increased from 11.8 percent in 2000 to 21.3 percent in 2015—an increase of 85,063 people. That brought the total impoverished population to 175,623.
To make matters worse, over the same 15-year period, the city population grew just 89,898.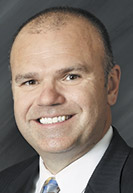 Riggs
"We had no idea that the growth of poverty was almost outpacing our population growth," Riggs said. "That's a crisis situation that has to be handled, not just for the financial well-being of the city and state, but that means we have an additional 85,000 people living in poverty struggling to make ends meet. They need help and assistance. Sometimes, people get lost in all the numbers. We forget we're talking about human beings."
But the challenge of poverty growth's nearly outpacing population growth is also fundamentally a structural one for a city that already faces budget and revenue challenges.
During Mayor Joe Hogsett's 2015 campaign, he said population growth was part of his strategy to grow city revenue. The downtown apartment boom has fueled hopes that young professionals would add to the city's tax base, but the numbers in the Sagamore study suggest an uphill battle.
Hogsett said the poverty growth must be slowed, which is why his administration is focused on "investing in current residents as much as we focus on the attraction and retention of talent and new companies."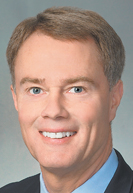 Hogsett
He said he's realized that, as mayor, you can "right the fiscal ship a heck of a lot quicker than you can right the ship of gun violence or dismantle the opioid epidemic or [fix] poverty."
"What Indianapolis is experiencing today is in no small measure the result of intergenerational poverty," Hogsett said.
But he said he is determined to fight it and believes improvement will come from recent investments in neighborhoods and new efforts by the city's economic development arm EmployIndy to get underemployed people trained for better jobs.
"I'm not pessimistic about it," Hogsett said. "I'm profoundly optimistic that the steps we're taking today will ultimately make a difference in [ZIP codes] 46201 or 46218."
But for now, the problems highlighted in the "Public Good Index"—which measured poverty, food insecurity, and other challenges such as drug and alcohol dependency in Indiana's 10 largest cities—appear quite serious.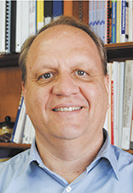 Nation
Sagamore's study also found annual median household income in Indianapolis fell 2.4 percent from 2010 to 2015, from $43,009 to $41,987. And 30.7 percent of Indianapolis children were impoverished in 2015.
"To live in such an affluent community and have that go on is a tragedy," said Tim Nation, co-founder and executive director of the Peace Learning Center.
'Fundamental shift'
City leaders say the increase in poverty is likely explained by the effects of automation in manufacturing and the "suburbanization" of other jobs.
"This is [due to] a fundamental shift in our economy," said Mark Fisher, Indy Chamber's vice president of government relations and policy development. "We had largely built an economy in central Indiana based on a relatively low-skill, very labor-intensive production economy. That led to a very large middle class being developed. As those jobs have shifted, largely due to automation, the skills needed to earn a middle-class wage are different."
Nation said the city has suffered from the closing of large factories in the middle of Indianapolis neighborhoods, such as the east-side's RCA plant at Sherman Drive and Michigan Street, which once employed 8,200 people.
"We have an industrial city that lost a lot of industry," Nation said. "We have vast neighborhoods that were built around factories that are no longer there. We do have opportunities and jobs, but they're in outlying communities and transportation has been a big issue."
The Great Recession was another big factor. And the recovery hasn't seemed to reach everyone.
Andrew Bradley, senior policy analyst at the Indiana Institute for Working Families, said much of the increase in poverty has happened since the recession, which shows a "bifurcation of fortunes" and an "uneven recovery."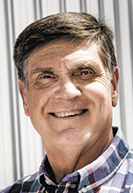 Kerr
"We're seeing this emerging tech sector and some really encouraging developments at the high end of high-skilled jobs," Bradley said. "We need to try something different and make sure we're not focusing on just the high-tech, high-skill jobs."
Representatives of service providers and community groups said results of the Sagamore study hit home for them because it comports with what they're seeing on the streets.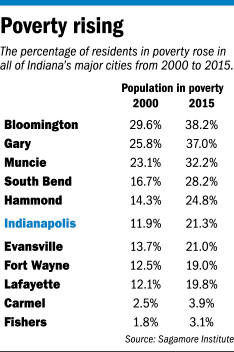 "I don't think it really surprises me," said the Rev. Charles Harrison, leader of the Ten Point Coalition, a group that tries to reduce crime throughout Indianapolis. "I know in the high-crime neighborhoods we patrol, we are certainly seeing a lot more boarded-up and abandoned homes. We're seeing a lot more rental properties rather than home ownership. We see a lot more kids out there who are going without, as far as clothing and shoes and food."
Steve Kerr, chief development officer for the homeless shelter Wheeler Mission Ministries, said the need for Wheeler's services has increased to the point that "we're frankly nervous about what the next few months hold for us" as winter comes and more seek the group's services.
"It feels like, for every one homeless person that goes through our program, there's another to take his place," Kerr said. "It just feels that way. Is it insurmountable? No. But as far as eradicating it, I don't think that's going to happen."
At Gleaners Food Bank, President and CEO John Elliott said the local need for food became more urgent beginning in 2010. "Households struggled on their own for as much as two years [after the recession] before they ran out of resources and then they needed help," Elliott said.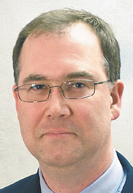 Elliott
From 2010 to 2016, Gleaners increased food output from 15 million pounds to 30 million pounds "on faith that donors would keep up with us."
Elliott said Indiana needs to develop a sense of urgency.
"We still have a hunger gap in all the 21 counties we serve," he said. "Why is that an acceptable state of affairs in a state that's known for taking care of its neighbors? How did we get here and how do we get away from it?"
Solutions
Community leaders' suggestions for how to solve the problem run the gamut from government intervention to free-market solutions and philanthropic involvement.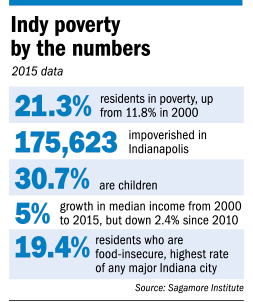 Hogsett is bullish on attracting jobs to neighborhoods, like the area around the now-bulldozed RCA plant, that have suffered heavy losses.
"We've lost our neighborhoods," he said. "I think if you can establish jobs that pay 15 bucks an hour on the near-east side or near-west side that will afford greater homeownership opportunities, it will increase public safety and it will stabilize families."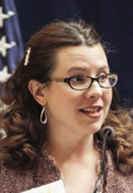 Fraser
Riggs pointed out that poverty rose in all 10 cities the institute studied, from South Bend to Evansville, not just Indianapolis. He said he hopes that scope makes state budget writers more eager to tackle the problem.
Some of the state's surplus could be spent trying to reduce poverty, perhaps by increasing job training programs, he said.
"Indiana has some options because it has benefited from strong fiscal leadership," Riggs said. "This can't be political, or we can't go to separate corners while people are in these types of conditions."
Fisher, the Indy Chamber official, said the chamber's longtime and so-far-unsuccessful support of a non-resident income tax—which would allow Indianapolis to capture tax revenue from the 200,000 residents who commute into the city from outside Marion County every day for work—is aimed at getting the city the money it needs to help the poor become self-sufficient.
Anemic city budgets are "limiting Marion County's ability to make long-term investments—in built investments, in workforce and training, and in the mental and physical health of the residents of this community," Fisher said.
"Marion County is creating a lot of good jobs, but they're not right now being filled by people who live in the community," he said. "You can't be a suburb of nothing."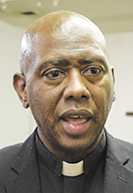 Harrison
The Legislature's decision to prohibit local governments like Marion County from raising the minimum wage was top of mind for Jessica Fraser, executive director for the Indiana Institute for Working Families.
"They should be able to say, 'Look we're not like the rest of the state; we have a lot more people in poverty or struggling and we need to make some changes for our circumstances,'" Fraser said. "The state has time and time again [prevented] locals from being able to make those choices."
Nation said the expansion of public transportation that can reliably get people to jobs is critical, "and it needs to be 24/7."
Harrison said addressing criminal justice reform, as well as changing what happens after people serve their time, is paramount.
He said the "doors of opportunity are closed" to ex-offenders, which is "why you aren't seeing the high-crime neighborhoods benefit from all the jobs that are supposedly available."•
 
Please enable JavaScript to view this content.