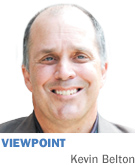 Earlier this month, I joined Indiana University students on a tour of the remarkable manufacturing facility at Cook Medical. Most had never been in a plant before or envisioned manufacturing as a rewarding career path. Their eyes are now open, but many more eyes are yet to be opened.
The public should know more about a sector that has changed rapidly over the last two decades by embracing information technology and automation in reaction to increasingly competitive pressures. Indiana—arguably the leading manufacturing state in the nation—has a particularly compelling story to tell.
Since the founding of the country, a strong manufacturing sector was seen as critical to the nation's success. In 1791, Alexander Hamilton, then secretary of the Treasury, penned a now-famous report to Congress extolling the virtues of manufacturing. Time has since confirmed Hamilton's vision. Before the last election, both major presidential candidates promised to grow our industrial base through a combination of policy carrots and sticks. President Trump has made manufacturing a central focus of his policies.
So what makes manufacturing so valuable from a societal perspective? Three benefits stand out:
• First, the manufacturing sector is a catalyst for raising living standards. That benefits everyone. To increase the standard of living, a nation must increase its labor productivity—increasing output per worker. It does so through an increase in the size and composition of the labor force, investment in capital, and technological improvements. Whereas labor composition is largely determined by demographics, capital and technology are more amenable to control. Manufacturing, capital- and technology-intensive, is a leading driver of productivity. And manufacturers drive productivity through innovation; about 70 percent of all private-sector research and development is conducted by the manufacturing sector.
• Second, manufacturing offers significant and varied job opportunities. According to the U.S. Bureau of Labor Statistics, 12.5 million workers are employed in the manufacturing sector. This is greater than the number of workers in other goods-producing sectors (i.e., construction and mining), and among the leaders when service sectors are included. Among states, Indiana has the greatest share of its workforce in manufacturing (16.9 percent). Nationally, since the Great Recession, manufacturers are leading the way in job creation.
• Third, manufacturing plays a critical role in ensuring national security. In particular, a nation's industrial base plays an essential role in times of war. George Washington experienced firsthand the downside of fighting a war without a strong domestic industrial base (hence Hamilton's report to Congress). The North relied on a manufacturing advantage over the South during the Civil War. And Franklin Roosevelt relied on unprecedented cooperation from manufacturers to build the arsenal that helped turn the tide in WWII (recall Rosie the Riveter?). Even today, the Department of Defense emphasizes the need to have critical technologies sourced from American manufacturers.
Of course, U.S. manufacturers face no shortage of problems, and many can be read about on the pages of IBJ. Hardly a day goes by when manufacturing policy is not a top news story. Tax reform, free trade agreements, the skills gap, infrastructure funding, regulatory reform—each affects the manufacturing sector in ways small and large. And yet sometimes it is appropriate to step back and remember why these issues are getting so much attention from our policymakers. IU students, indeed all of us, would benefit from recognizing the value of manufacturing to Indiana and to the country.•
__________
Belton directs the Manufacturing Policy Initiative in the School of Public and Environmental Affairs at Indiana University in Bloomington.
Please enable JavaScript to view this content.