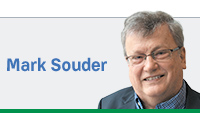 In the interest of disclosure, I encouraged Mike Pence to run for president in early 2010, for the 2012 nomination. House Majority Leader Dick Armey frequently told us that every senator woke up in the morning, looked in the mirror, and saw a potential president. The curse has spread to governors as well as far beyond. Give a good speech and you are suddenly the great new hope.
Pence's potential candidacy was far beyond that. Social and other conservative leaders were encouraging him to run, feeling the other candidates would not succeed beyond the narrow base (true except for Santorum, who broadened it a bit). Several of the more moderate conservative members of Congress, who no one would have suspected as Pence advocates, approached me about encouraging him to run.
Pence quickly and correctly assessed there wasn't elbow room to be the most conservative on any issue and still be able to attract enough other Republicans to even get the nomination. He isn't prone to walking off cliffs. Romney won a war of attrition as movement conservatives switched candidate flavors almost every primary.
Pence also realized the historic problem of becoming president as a member of the House. It has happened once, in 1880. And it took congressman James Garfield 34 ballots to get the Republican nomination. He won the presidency by 7,368 votes out of nearly 9 million cast, then was assassinated six months later. Not an encouraging model.
Thus, Pence made a deal with Boehner to become Republican Conference chairman. The chairmanship gave Pence the Republican microphone as the voice of the party (which hasn't had much of an organized voice since he left, in case you hadn't noticed).
The "deal," however, was basically the same as Eric Cantor's for majority leader: I will put you in this position if you agree to never challenge me for speaker. It is a gentleman's political understanding. When someone helps advance you, it isn't decent to turn around and challenge them. Boehner has always practiced a form of embracing his "team of rivals" like Abraham Lincoln.
Simply put, Pence was blocked from advancement in Washington. Also factoring into his decision to move home were his Indiana roots, his school-age children and a potential gubernatorial base for the future. It also freed Mitch Daniels to be the sole Hoosier running for president. Back scratching done well is always to mutual benefit.
Pence has been a cautious governor, not a flamboyant one with controversies boiling around him, but he also has been steadfastly conservative. He doesn't excite the base like, say, a Scott Walker of Wisconsin might. Pence would be popular among social conservatives but also solid among those who stress economics. He served on the House International Relations Committee, so at least has more foreign policy experience than most of the other potential governors (and also in promoting trade).
My take: Pence is not a long shot, nor is he a likely candidate, but he is a very plausible candidate.
The Republicans need Ohio and Florida to win. They need to attract women and Hispanics, so Pence probably isn't among the favored at this point. I think he makes a lot more sense as the nominee than a ticket-balancer.
Pence doesn't have to rush into it. He should be able to win the governorship again, even if Evan Bayh ran. Sooner or later, the Democrats will run out of Clintons. Maybe.•
__________
Souder, a former business owner and Republican representative of the 4th Congressional District, is a political commentator living in Fort Wayne. Send comments to ibjedit@ibj.com.
Please enable JavaScript to view this content.