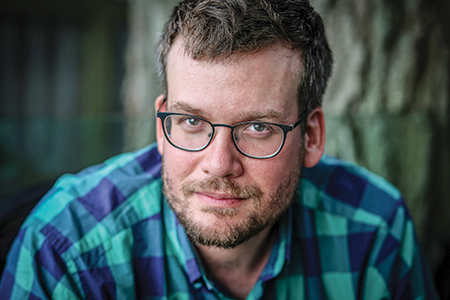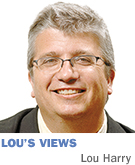 In "Turtles All the Way Down," John Green, Indy's crown prince of young adult novels, is back in all his John Green-ness. The new novel demonstrates clearly that the blockbuster status of 2012's "The Fault in Our Stars" hasn't discouraged him from reaching—a bit—while keeping his feet firmly anchored in his proven strengths.
Overall, that's a good thing.
Aza, the book's teen narrator, suffers from anxiety and obsessive-compulsive disorder. And like such books as diverse as "The Curious Incident of the Dog in the Night-Time," "The Color Purple" and "A Clockwork Orange" (to name a few from different generations), "Turtles" immerses the reader in its main character's point of view, elevating that immersion far above plot in importance.
"Turtles" begins as a mystery, but the whodunit—or, more accurately, the whereishe—keeps taking a back seat to Aza's struggle to get through each day. The spiral, illustrated on the book's cover and repeatedly referenced throughout, is the real villain of the book. Time and again, Aza's observations lead to more thoughts, which lead to further spiraling thoughts that pull her into debilitating battles with herself, affecting her relationships with friends, family and, of course, a certain boy.>
The missing person that sparks the mystery is an Indianapolis billionaire who seems to have gone on the lam to avoid arrest. Left behind is not only his fortune and his estate, but also his two teen sons and a rare reptile to whom his inheritance is promised (the book's most-difficult-to-buy plot point).
Aza and her pal Daisy have an interest in the case—and its $100K reward–which leads them to Davis, one of the sons. Romance develops, of course, but with Aza, there are potential insurmountable complications. That's the power of Green's ability to capture the OCD experience and render it in excruciating detail, which might make some readers uncomfortable enough to want to skip ahead.
While his heroine is fresh, Green doesn't shy away from the cliches of the young adult genre. His teens spend lots of times lying on their backs staring into the sky and contemplating the universe (including the obligatory trope about how long it takes light from stars to travel). His characters spout a disproportionate number of quotes from literary figures. And "Turtles" is not without the kind of "oh, come on" coincidences that populated Green's "Paper Towns."
But Green has a unique grasp of the way technology infuses everyday life. (He should, given his extracurricular activities as an online star.) That comes through in the way Aza does much of her amateur investigating and in the way Davis and Aza communicate. Green isn't hesitant to explore the metaphysics of Facetime. He also knows how to mix high and low culture in unexpected but believable ways. Rather than create a fictional teen hangout diner, for instance, he makes Aza's and Daisy's go-to dining spot an 86th Street Applebee's—but that doesn't mean they can't also get excited about a funky, site-specific, one-night-only art exhibition. And while Daisy sometimes seems to come from the stock school of teen sidekick characters, complete with quirky interests (writing "Star Wars" fan fiction), a late-in-the-book revelatory speech gives her life context—and even a kind of heroism.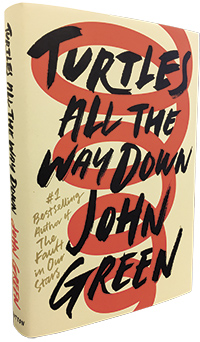 This column appears weekly. Send information on upcoming arts and entertainment events to lharry@ibj.com.
 
Please enable JavaScript to view this content.