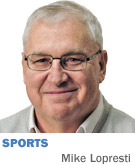 Ain't it great, being one of the cool kids?
Indianapolis certainly is, when it comes to hosting big ticket sports events. Never mind having to outbid anyone. Now they're calling up Indy and asking for a date, as if they were inviting the city to the prom.
That's the way it happened, anyway, with the 2022 college football championship game, which just landed in central Indiana's lap. One minute, the playoff folks are on the line to pop the question. The next, Indianapolis has six weeks to say yes, and plan how to pull it off.
"It was a lot like that," Susan Baughman was saying, as senior vice president of Indiana Sports Corp. So who in Indianapolis gets called first, when the clock is already ticking?
"The mayor's office, Visit Indy, the venue," she counted off. "It was pretty much 19-hour days. But what was really gratifying was all the organizations and venues and the airport—all the different groups we had to coordinate with—immediately made time for us.
"The time was compressed, that was the challenge. On the upside, we weren't having to strategize what we had to do over and above to beat another city."
No, Minneapolis wasn't going to yank this one away, as it did the next Super Bowl. There are moments that Indy's track record as big event host is gold. This is one of them. You survive Gen Con, you can survive Alabama vs. Clemson.
Indianapolis has had both eyes on the college championship game for a while, and making a bid was only a matter of time. It's something shiny to host, and Indy has to be Indy. But suddenly, the city always eager to woo someone for a major event became the wooee.
"In one sense, we were mentally prepared to tackle putting a bid together, but we probably weren't prepared to do it in five weeks," said Ryan Vaughn, president of Indiana Sports Corp. "(It took) working around the clock at true breakneck speed to do this."
So take that, World Cup soccer organizers, who just told Indy no. This town might not be good enough for your yellow cards, but it's good enough for Notre Dame.
To begin the countdown, here are things we already know about Jan. 10, 2022.
Mike Krzyzewski won't win the title game, like he does about every time the Final Four comes to town.
This is not the Super Bowl. No Roman numerals. Fewer private jets, more tailgaters. Fewer high rollers and catered VIP parties and limos, more crowded pubs and sports bars, more SUVs with pennants, more tuba players. "It's more the normal common Joe football fan vs. the corporate fan," Baughman mentioned.
The Super Bowl didn't have school songs, either.
There's a decent chance that one team will be Alabama. There have been three championship games so far; the Tide has been in two, and nearly all three. That'd be fine for Indianapolis, because Alabama fans travel in waves and throw money at host cities.
Then again, Nick Saban will be 70. He might be at his lakefront property.
If not Alabama, any SEC team will do. They all bring legions of fans, and their wallets. Ohio State, too.
It'll be played on Monday night, not Sunday like the Super Bowl. Workday traffic and parking might be a little tricky. The Final Four championship games are also on Monday, and that always works out, but college football crowds tend to show up way earlier.
It'll be winter. Who was in charge of schmoozing Mother Nature for the Super Bowl, to have the city blessed with spring in February? They get the job again. Sleet might kill the mood.
Speaking for all Baby Boomers, we might be a tad old by then for the zip line.
It'll miss by only 26 days the exact 10-year anniversary of Super Bowl XLVI in Lucas Oil Stadium.
Lee Corso will put on a mascot head for ESPN GameDay to predict the winner. That's if he still can. He'll be 86.
The JW Marriott will have something on the side of the building. Maybe the diagram of Urban Meyer's favorite pass play, if Ohio State makes it.
The city will make a ton of outside money—more than $150 million is the estimate—and get several megawatts of exposure. "This is not just wishful speculation," Mayor Joe Hogsett said.
No, Indianapolis is savvy enough at the business to know what a chance like this means. It is the Yoda of sport host cities. You know you're good when they come to you.
Is that Roger Goodell on line 2?  
Please enable JavaScript to view this content.