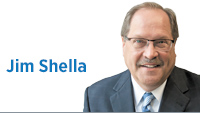 Take a second, please, to think back to the evening of May 2. It was just a couple of weeks ago, a Saturday, and, just possibly, a day worth remembering.
Your day, no doubt, included some awareness of the Pacers Game 7 win over the Atlanta Hawks.
It was also the evening when California Chrome won the Kentucky Derby in a great story about a man, a dream and an unbelievable horse.
Maybe you were still recovering from running in the Festival 500 Mini-Marathon.
I took my wife to dinner on the north side where, much to our surprise, we encountered prom-goers in full regalia. Make that low-cut, cutout, strapless, peek-a-boo regalia, outfits that reminded us just how long it had been since our daughter took part in that high school rite of passage.
"Would you let our daughter out of the house dressed like that?" my wife asked.
Of course, the only answer to that question is "no," but, then again, I'm guessing some of those young ladies didn't look the way they did at the restaurant when they left the house.
So, I'm getting off track a little. While all of that was going on, Mike Pence and Chris Christie had big nights, too—very different big nights.
Christie was in the crowd at the White House Correspondent's Dinner, the best place imaginable for a presidential hopeful to be noticed by the Washington media crowd and C-Span junkies across the nation.
He got what he came for, too, and that was to be recognized as a 2016 GOP contender. The president made reference to him in a joke or two.
"I promise tonight will be amusing and over quickly," comedian Joel McHale told the crowd. "Just like Chris Christie's presidential bid." Christie laughed. You don't go to that dinner unless you want someone to make fun of you.
"Buckle up, Governor Christie," said McHale at one point. Then after a pause, he said, "Excuse me, extender buckle up."
Enduring jokes about your weight is something that falls under the category of, "There's no such thing as bad publicity."
But is there such a thing as better publicity?
That has to be what Mike Pence was thinking. He was in Milwaukee on May 2 at the Wisconsin state GOP convention. He delivered what was billed as the keynote address.
You all know that Pence is refusing to answer the 2016 question but doing nothing to keep people from asking it. The Wisconsin trip could be explained away as Pence doing a favor for a friend, Wisconsin Gov. Scott Walker.
But, Walker is also a 2016 possibility and so is Wisconsin congressman and 2012 vice presidential nominee Paul Ryan.
It was a chance, maybe, for Wisconsin Republicans and others to do a little comparison shopping. Or maybe an opportunity for Pence to see how he measures up.
In the official account of the convention on the Wisconsin GOP website, Pence didn't get mentioned. Ryan got the headlines in the Wisconsin media but at least one Wisconsin Republican declared Pence to be a "huge hit" on Twitter.
There will be more of this. Pence has a similar trip to Alabama planned for next month.
It will be a year or so before we have any idea how significant the events of May 2 might be.
It could be that only the prom-goers will remember it. But if that's not the case, I'll be back to remind you.•
__________
Shella is WISH-TV Channel 8's political reporter as well as host and producer of the Emmy-nominated "Indiana Week in Review." Send comments to ibjedit@ibj.com.
Please enable JavaScript to view this content.