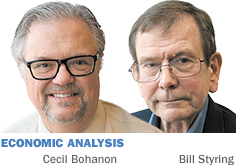 We are skeptical about the American obsession with ranking everything. From steakhouses to museums to schools, everything gets ranked. How any entity comes out on any ranking depends on the criteria used by the folks concocting the ranking scheme. Make no mistake, those being ranked can and do "game the system."
Nevertheless, we do not think rankings are useless. Just watch the criteria. If universities are ranked primarily by the percentage of incoming freshmen in the top 1 percent of the standardized test pool, you will likely get very different results from a ranking that heavily weights students' engagement in volunteer activities on campus. Neither of these are likely relevant if your high-schooler wants to pursue a career in food management.
It ends up that northern Indianapolis suburbs have been scoring rather well in several recent rankings. Niche.com, a firm dedicated to helping one "discover the schools and neighborhoods that are right for you" and that boasts the "most comprehensive data available on U.S. schools and neighborhoods," ranks Carmel No. 1 out of 15,783 locations in the country. Fishers comes in at No. 4, Westfield No. 155, and Zionsville No. 179.
A recent ranking by Money Magazine listed the top 100 communities with populations between 10,000 and 100,000. Fishers was No. 1, Carmel No. 16, Avon No. 17, and Greenwood No. 22.
Noblesville didn't register splashy overall rankings on either list, but it scored well in several subcategories. Just for fun, if you add the population of Noblesville to the populations of the aforesaid communities, you get a total population of more than 350,000—just a tad smaller than the population of Belize.
Of course, many factors come into play in these rankings, but we suspect the cost of housing is a key variable. Indiana does not have the excitement and intrigue of Washington, D.C.'s suburbs, or the beaches and weather of Southern California, but then one pays a pretty penny for those amenities. The ratio of median house prices to median household income is less than three for Carmel and Fishers, while it is nearly six for No. 25 Arlington, Virginia, and No. 28 Pacific Highlands, California.
Yes, there is more than corn in Indiana, but it's not insignificant that those cornfields can easily be turned into housing developments. To our credit, Indiana hasn't embraced too much NIMBY (Not In My Back Yard) and certainly hasn't bought into California's BANANA building philosophy: Build Absolutely Nothing Anywhere Near Anybody.
And so gosh, good news, and from practitioners of the dismal ranking science, no less.•
__________
Bohanon is a professor of economics at Ball State University. Styring is an economist and independent researcher. Both also blog at INforefront.com. Send comments to ibjedit@ibj.com.
Please enable JavaScript to view this content.