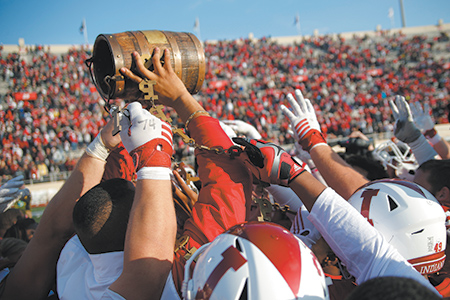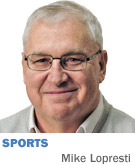 Happy turn-back-the-clock weekend. Oh, if only we could. (Think about it. Peyton Manning in Lucas Oil, Reggie Miller in Bankers Life, Drew Brees at Purdue … never mind, you get the idea).
Anyway, other than the end of daylight saving time and turkey bones, what else can we expect from this November? Funny you should ask. This could be a highly illuminating month, even as dusk beats dinner.
By Nov. 30 …
We'll know how low it might go for the Colts. They will have played at Houston, plus Pittsburgh and Tennessee at home, meaning they could be 2-9, with the discussion turning to the draft.
They could be all but mathematically eliminated from the playoffs for the third consecutive season. The last time that happened, Manning was a freshman at Tennessee.
The bye week—firing time for coaches in the past—will have come and gone. We'll know if Chuck Pagano came and went with it. Or if he's now sleeping in on Sundays.
Andrew Luck will still be week to week, month to month, year to year.
By Nov. 30 …
Tom Allen and Jeff Brohm will have coached in their first Old Oaken Bucket, and one of them will feel lousy. Indiana will own its longest winning streak in the history of the series—which started 126 years ago—at five. Or Purdue's long Bucket nightmare will be over.
It is improbable that both will have winning records. That hasn't happened in 10 years. ESPN "GameDay" will not have shown up in West Lafayette.
Each team will mourn all the close games that got away—coming out of October, seven between them by a single possession. They will both end the regular season having shown promise for the future, but wishing they had more wins in the present.
By Nov. 30 …
Indiana will have played Seton Hall and Duke in basketball, and we'll have a better feel for Archie Miller's honeymoon. If the Hoosiers win both, he might be a candidate for senator.
Purdue will have played Marquette and Louisville, and possibly Villanova and Arizona in the Battle 4 Atlantis. Life after Caleb Swanigan will be clearer.
Butler will have played Maryland, Texas, maybe Duke and maybe even—oh, my—Ohio State and Chris Holtmann. So much for LaVall Jordan easing into the pool one toe at a time.
By Nov. 30 …
Awakened echoes will be galloping around the Notre Dame campus, if the Irish run the table, putting them in line for the college football playoffs. They will have had to win at Miami—boy, is that a blast from the past—and Stanford. And they will have escaped the trap game that is Navy.
The Heisman polls will be closing, with Josh Adams in line to be the school's first winner in 30 years. Or not.
By Nov. 30 …
The fresh-faced Pacers will be roughly one-fourth through their season, with a good idea of their identity. The early games suggested a fun bunch—eager and lively and willing to go up and down with anyone.
They broke 130 points in regulation twice in the first week. The last time they did that three times in an entire season was 25 years ago.
So when Victor Oladipo buried a rainbow three-pointer the other night to finish a winning rally past San Antonio, it seemed a good time to check in on the locker room and sample the thinking of some of Indy's newest residents.
Darren Collison, first.
"We're just trying to do it by committee. We understand we don't have any all-stars on this team. We have very good players on this team, and however we get it done to win games, let's do it. There's been some teams that have had some success doing it that way, where you don't have to rely on just one guy.
"If we win, we all win. We said before the season started, it's going to be different guys on different nights. Every guy is going to have his moments."
Next, Oladipo.
"We're still trying to get used to each other, trying to get to know each other still. Nothing really comes overnight."
Oladipo, who slashed through a few Big Ten defenses at Indiana University, mentioned, "I feel like I belong here." How empowering is that?
"It's a blessing," he said. "Somebody wants you … there's no better feeling than that. I believe in myself, but to have your teammates, your coaches and your city believe in you, too—it just makes every day that much sweeter."
Finally, Domantas Sabonis, who in the first six games had nights when he shot 7-for-7, 7-for-7 and 9-for-9.
"I have a great opportunity here on this team, and I'm just trying to take advantage of it."
Oladipo with nothing but belief, Sabonis with nothing but net … could the Pacers have actually won the Oklahoma City trade for Paul George? A tad early to declare. November brings heavy lifting, with eight of the first 11 games on the road. By Nov. 30, we'll know a lot more.
That should have local attention. It's not as if a Colts playoff run will be hogging the headlines. We don't need November to tell us that.•
__________
Lopresti is a lifelong resident of Richmond and a graduate of Ball State University. He was a columnist for USA Today and Gannett newspapers for 31 years; he covered 34 Final Fours, 30 Super Bowls, 32 World Series and 16 Olympics. His column appears weekly. He can be reached at mjl5853@aol.com.
Please enable JavaScript to view this content.