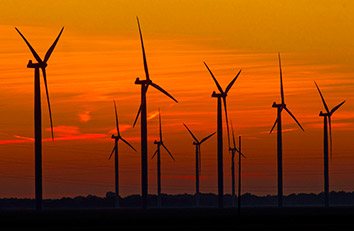 Indianapolis-based IEA Energy Services LLC, which designs and builds wind and solar energy projects around the United States, is on its way to becoming a publicly traded company.
On Friday, New York-based M III Acquisition Corp. announced it had signed an agreement to merge with IEA in a deal valued at up to $345 million. 
 
IEA was formed in 2011 by Oaktree Capital Management LP, a Los Angeles-based investment management firm. It has completed about 200 wind and solar projects, including the 9,000-acre Benton County Wind Farm in northern Indiana. 
M III, which incorporated in August 2015, is what the U.S. Securities and Exchange Commission defines as a "blank check company"—one formed for the purpose of seeking a merger or acquisition with another party.
M III's chairman and CEO is Mohsin "Mo" Meghji. Prior to forming the company, he was the head of strategy for Evansville-based Springleaf Financial, a consumer finance company whose name is now OneMain Financial. Meghji served at Springleaf from 2012 to 2014 and was at the company when it went public in 2013.
"On behalf of the entire team at IEA, we are very excited to be partnering with M III to become a public company and to position IEA for continued success during what we view as a very exciting time in renewables construction," IEA CEO and President J.P. Roehm said during a pre-recorded conference call which was made available Friday morning.
"For the past several years we have held number-one or number-two market share in the construction of U.S. wind infrastructure and are growing our presence in utility-scale solar construction. We believe we currently build 30 percent of the U.S. wind energy market and have erected over 7,200 wind turbines with the ability to generate over 14 gigawatts of power in over 35 states."
Roehm will continue to serve as IEA's CEO after the deal closes, M III said. The firm will remain headquartered in Indianapolis and be renamed Infrastructure and Energy Alternatives Inc.
M III will apply to the Nasdaq Capital Market to list shares under the ticker symbol of IEA.
Under the terms of the agreement, IEA and M III will combine through two consecutive mergers. Once the mergers take place, Oaktree will receive about $100 million in cash; 10 million shares of common stock in the company, valued at $10 per share; $35 million in preferred stock; and the assumption of $20 million in capital leases. 
During the pre-recorded call, Meghji said the initial purchase price of $255 million represents a 5.6 multiple of IEA's expected 2017 earnings of $52.7 million. That figure represents the company's earnings before interest, taxes, depreciation and amortization, commonly called EBITDA.
IEA predicts EBIDTA of $78 million in 2018 and $95 million in 2019, Meghji said.
IEA's existing owners will also be entitled to receive up to 9 million additional shares of common stock if the company meets specified earnings goals for 2018 and 2019. That would bring the value of the deal to $345 million.
Once the deal closes, Oaktree will hold about 34 percent of IEA's common stock. If the full 9 million additional shares are awarded, Oaktree will hold just shy of 50 percent of the company's stock. 
Following the merger, IEA will have a seven-member board of directors which will include Roehm, Meghji and Oaktree Managing Director Ian Schapiro. Oaktree will nominate two directors, and M III's sponsor investors will nominate an additional two.
 
Please enable JavaScript to view this content.